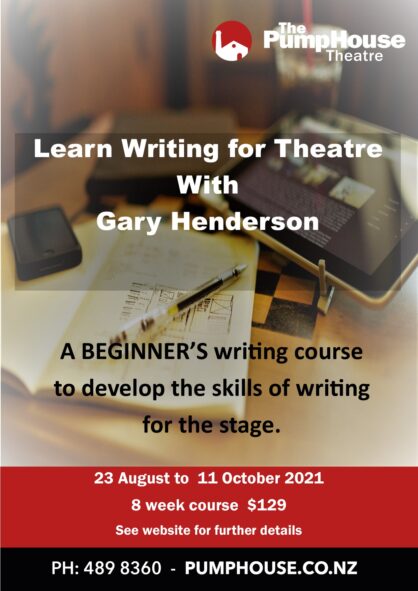 Dates and times
o Monday 23rd August, 7:00 pm until 9:00 pm
o Monday 30 August, 7:00 pm until 9:00 pm
o Monday 6 September, 7:00 pm until 9:00 pm Online
o Monday 13 September 7:00 pm until 9:00 pm
o Monday 20 September, 7:00 pm until 9:00 pm
o Monday 27 September, 7:00 pm until 9:00 pm Online
o Monday 4 October, 7:00 pm until 9:00 pm
o Monday 11 October, 7:00 pm until 9:00 pm
Final performance presentation 22nd November at 7:00 pm
Venue
The PumpHouse Theatre
Prices
$129 for the 8 week course
How to get tickets
About
Join award-winning New Zealand playwright Gary Henderson at The PumpHouse Theatre for an eight-week course that will introduce you to the essential skills of writing for theatre.
You'll emerge from this course with your own original script for a ten-minute play which will be performed before an audience in The PumpHouse Theatre Coal Bunker Studio  in November 2021.
The programme covers generating characters and stories you believe in, through finding theatrical techniques to present them on stage, to expressing it all in a written script.
You'll learn about light, sound, silence, action and space as well as the spoken word as part of your vocabulary and we'll use engaging exercises to provoke you into thinking in three dimensions to create a compelling story for the stage.
This course is aimed at people with little or no experience of playwriting who would like to have the opportunity to try it out.
About Gary Henderson
Gary Henderson is an award-winning NZ born writer and director. He has written for stage, screen, radio and as a collaborative librettist for opera.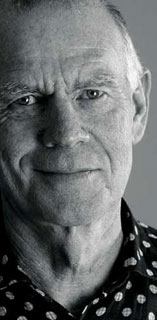 His work has been professionally produced around New Zealand, in South Africa, Australia, Great Britain, Canada and the United States.
Gary has also served many times as a director and mentor in the development of scripts by new writers.
We welcome Gary back to The PumpHouse once again to deliver his short writing course designed to help budding scriptwriters develop the craft of writing for theatre.
For further information please contact mags@pumphouse.co.nz
---
Sponsors
---
Presented By