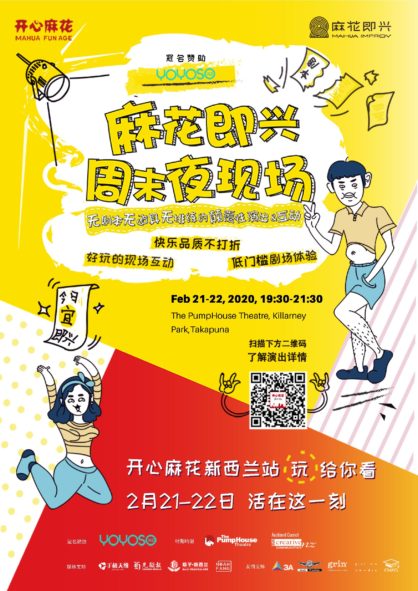 Dates and times
Fri, Feb 21 - 7:30pm
Sat, Feb 22 - 7:30pm
Venue
The PumpHouse Theatre
Prices
| | |
| --- | --- |
| Adult | $39.00 |
| Senior (65+) | $35.00 |
| Student | $35.00 |
| Child (under 16) | $35.00 |
| Friends of The PumpHouse | $35.00 |
| Group 4+ | $35.00 |
How to get tickets
Earlybird Discount Code (15% off): MAHUA (enter at checkout) Earlybird discount ends 9 February 2020
Buy tickets online now from The PumpHouse Theatre box office:
About
Mahua Improv Show is the most renowned and popular Chinese Improv Comedy Show, using free dialogue, physical expression and performance skills to create unique improvised comedy, Mahua Improv's enthusiasm and talent are celebrated in China and beyond…
In 2015, Mahua Fun Age introduced improvised comedy to China. Abandoning scripts and showcasing their quick thinking and unique performance skills, the group has developed an innovative comedy performance and training system known as Mahua Improv.
Mahua improvises impromptu scenes, characters, and plots based on the keywords provided by the audience. Mahua Improv is beneficial to people who would like to release pressure, express themselves, and inspire creativity.
*This event is in Mandarin.
作为密集段子+吐槽逗乐+爆笑开喷的超能IP喜剧品牌,开心麻花从春晚小品到超高票房的电影,用实力证明了自身中国喜剧领军品牌的地位。
本次【开心麻花即兴周末夜现场 | 奥克兰站】,是一场融合了开心麻花最新表演形式——麻花即兴,和开心麻花精髓特色的,真正做到零距离爆笑,兼具观演和互动双重享受的全新体验。
Hold的住一切的开心麻花,自然能在这一次喜剧之夜里,将土酷民族风与High fashion国际范儿都送到你面前,带你领略即兴喜剧的独特魅力!无剧本的即兴演出,无可预估的高能快乐!
这一夜,让我们聚在一起,静候快乐放马过来!
---
Reviews
Lukas Zhang - TheatreReview: Mahua Improv is a Chinese comedy show. Most of the time, actors are using free daily dialogue and dramatic physical expression to make jokes about culture, society, and humanity. This event is entirely in Mandarin without translation which can be a bit hard for other language speakers to understand.

The setting and lighting are very simple. The actors are all wear hoodies and jeans. Seems like they want the audience to focus on other aspects of the show. There are four actors: three males and one female. As said in their poster, this whole show is without rehearsal, props or script but with a lot of fun and interaction with the audience.
Mahua improvises scenes, characters, and stories based on keywords provided by the audience. After a simple greeting to the audiences, the comedy starts. The guy with a hat is the leader of the group. He starts to walk around and the rest stand back waiting for his sign to act. He makes a lot of jokes about the audience. Some of the audiences are super flattered by him. He seems quite chill and confident of how to please the audience.

They ask the audience to write down any keywords they want on a piece of paper and put them in a bag. First they create a daily situation in a company, where one actor plays a man who wants to get a job. The guy he plays seems silly and smiles a lot. He tries so hard to impress his boss but often says stupid stuff which is very funny if you can understand Chinese.

Then they pull out all the keywords from the audience they gathered in the beginning. They pair up have to perform whatever the keyword is and create a comedy out of it. The actors truly let go of themselves and the audiences laugh so hard because it is very over the top and funny.

The best thing about Mahua is that the audience gets to participate. The actors' quick-thinking responses and the humour helps them instantly built a very good relationship with the audience. One audience member gets the chance to get on stage and perform one keyword. This event releases my stress and inspires me in many ways.
All the actors are well trained and have performance skills to create a unique experience for the audience. Mahua Improv is very popular in China and beyond. It is truly an incredible event. Read more »
Video
Photos