A BIG thank you to the Devonport-Takapuna Local Board
Over the last couple of months, The PumpHouse has been a hive of activity with suppliers, contractors and Auckland Council staff helping us with some major repairs and upgrades – made possible by the support of our Local Board.
Our new Cyclorama
Pictured above is our lovely new Cyclorama which made a striking debut during the recent Tim Bray Productions season of The Great Piratical Rumbustification.
A cyclorama is a large fabric screen at the back of the stage. It can be lit, or have images or video projected on to it to enhance scenic or lighting effects. Our old Cyclorama had been in service for about 10 years and was covered in holes and paint stains, so the new one really makes a difference.
We're really grateful to the Devonport-Takapuna Local Board who provided the majority of the funding to purchase the new Cyclorama via their quick response grant scheme.
(Thanks to Tim Bray Productions and David Rowland / One-Image.com for permission to use their photo, above)
The Coal Bunker leak is no more.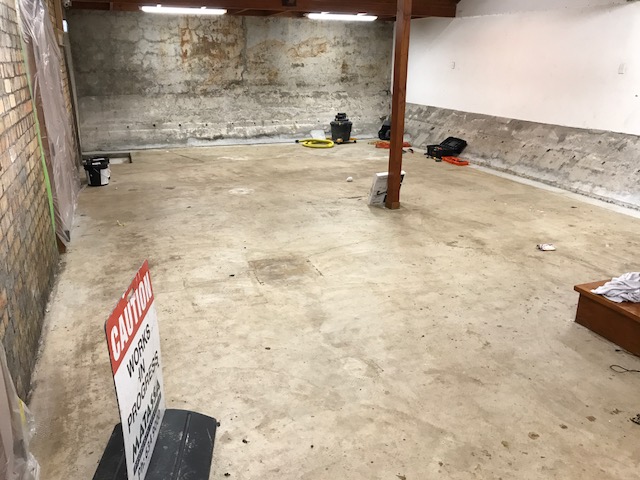 It's taken over seven years, several in-depth reports, expert engineering advice and thousands of dollars but the Coal Bunker space (formally the art gallery) is finally leak-free!
Immediately after our 40th Anniversary celebrations work began to fix storm water drainage issues around the back of the building and inside the Coal Bunker.
Contractors put the finishing touches on the new carpet last week, bringing the project to completion.
Thanks again to the Devonport-Takapuna Local Board for their support and funding, and the hard-working Auckland Council staff who have been to endless meetings with engineers, contractors and PumpHouse staff as we worked together to schedule work around performances.
Below you can see some photos of work in progress and how the Coal Bunker looks now – complete with new safety edging on the stairs that glows in the dark!