Join The PumpHouse Theatre as a Duty Manager
We are looking for casual Duty Managers to join The PumpHouse Theatre team. Our Duty Managers oversee the performances we host to ensure our hirers have all the support they need when they are on site at The PumpHouse.
You'll be the first to arrive and the last to leave, and responsible for everything from Health and Safety briefings to supervising the Front of House team – basically you'll jump in and help wherever you are needed on behalf of The PumpHouse Theatre.
The person we are looking for will be organised, have a great understanding of Health and Safety and have the customer service skills to take the lead in resolving the most challenging of situations.
This role is likely to suit someone with experience as a stage manager or production manager (even if that's in community theatre), or perhaps as a technician. Alternatively, you may have worked in a similar role outside of the entertainment industry.
While some knowledge of sound, lighting and projectors is helpful it's not essential. It's the interpersonal and communication skills and experience in customer service which are of real value.
A current First Aid Certificate and some knowledge of workplace health and safety regulations would be good but again not completely essential as we can provide training.
This is a casual-on call position with no fixed hours of work as demand is based exclusively on the needs of individual hirers. Ideally, you'll be available for daytime, evening and weekend work.
The PumpHouse Theatre is a registered charity with a focus on providing a low-cost performance space for the community. Initially we expect to pay around $20.00 per hour before tax, plus holiday pay and KiwiSaver.
How to apply
To apply, please email us with your contact details for two referees we can speak to about your skills and experience and your CV including details of your experience.
We'd also love to know a bit about your current situation and why you'd like to join us.
Applications can be emailed to mags@pumphouse.co.nz
Casual Box Office / Usher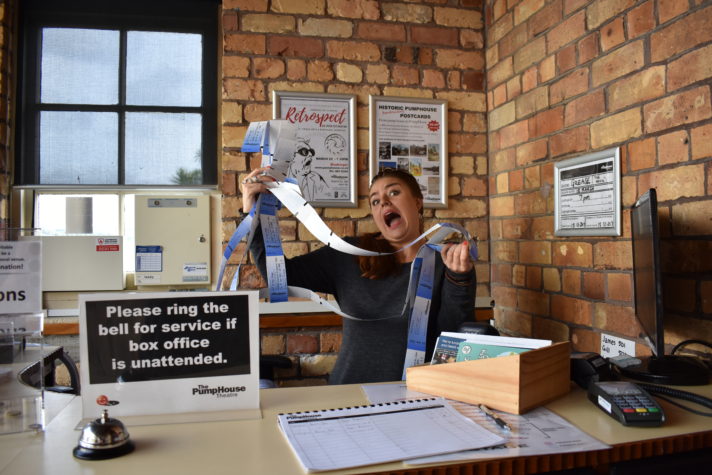 We are looking for friendly, outgoing people to join our box office team.
You'll be the welcoming face of The PumpHouse when people visit. Each shift you might be answering questions, selling tickets and merchandise or helping people find their seats. You'll also help us keep an eye on health and safety. As you'd expect we provide full training.
You'll need great customer service skills, good computer skills and a love of theatre.
We are especially keen to find people available during the day – both during school holidays and term-time, but ideally you'll be available for both day time and evening work.
This is a casual role, so you can pick and choose the shifts you want to work. Each shift is about 1.5 hours, long and we pay $16.75 per hour plus 8 per cent holiday pay.
To apply, email your CV and a short covering letter or email telling us why you'd love to join the team to info@pumphouse.co.nz