We're thrilled to announce The PumpHouse Picnic Fundraising Raffle!
Support The PumpHouse Theatre and win some amazing prizes generously donated by local Takapuna businesses. Your $10 ticket gives you the chance to win:
• A Takapuna Mini-Break – including your own Volkswagen all-electric ID.5 to drive for the weekend thanks to Tristram European, a luxurious stay on Takapuna Beach at the Emerald Inn, restaurant vouchers to spend in Takapuna, and double passes to both Shakespeare in the Park 2024 and Tadpole Production's show in May 2024
• An Unforgettable PumpHouse Night Out – $100 to spend on a scrumptious pre-show meal and French Rendez-vous Café and tickets to both Shakespeare in the Park 2024 and Tadpole Production's show in May 2024
• A Summer Indulgence Pack – a hamper of sweet treats, cheeses and drinks, shopping and book vouchers and a double pass to Shakespeare in the Park 2024
Tickets are available in person from The PumpHouse Box Office from 6th November and at the PumpHouse Picnic until 7pm on 12th November.
The winners will be drawn on 14th November and notified by phone.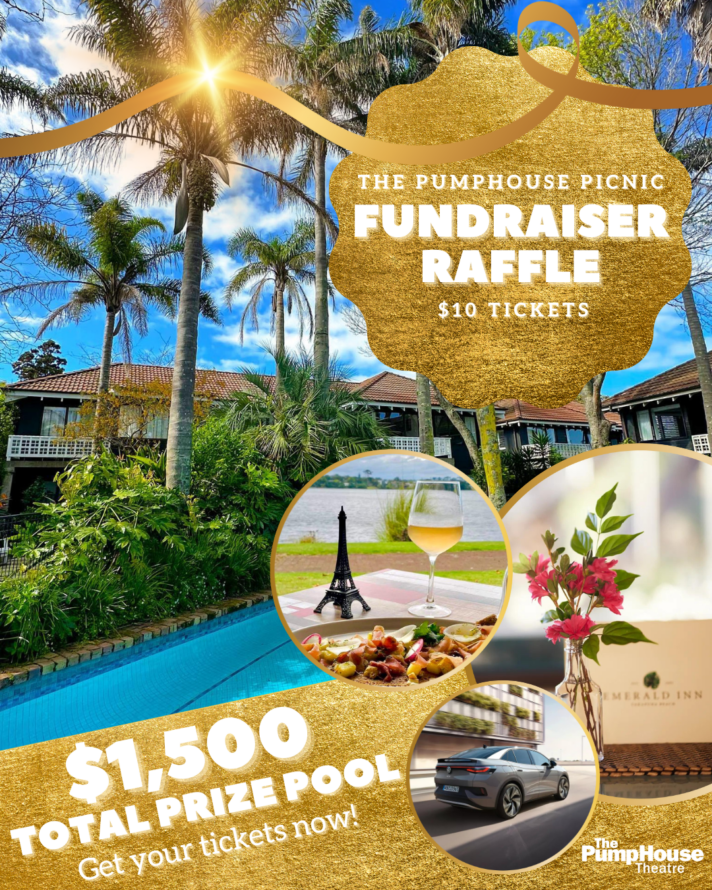 Terms and Conditions
• Raffle tickets are only available for purchase at The PumpHouse Theatre between Monday 6th November and Sunday 12th November 2023.
• Tickets cost $10.00 each.
• The winners will be drawn on Tuesday 14th November at 10:30am at The PumpHouse Theatre by a member of the North Shore Theatre and Arts Trust Board.
• A total of three draws will be held, one for each prize. Every entry has the opportunity to win each of the three prizes, however winning entries are not reentered into subsequent draws.
• Winners will be contacted by phone and announced on The PumpHouse Theatre's social media channels.
• Winners may be asked to have their photo and first name used in promotional social media posts by The PumpHouse Theatre.
• Prizes are not transferable for cash and are valid only for the times and/or before the expiry dates listed on the relevant vouchers.
• If the winner is unable to be contacted within 7 days of the prize draw, a new winner will be drawn.
• Total value of all prizes is $1,500.