Bonjour from Lea, our new intern
Kia Ora, my name is Lea and I'm very excited to be the new intern at the Pumphouse Theatre for the next 6 months!
I'll be done with university after that, after 7 awesome years of study and travels!
It's been great fun, but now it is time for me to move onto bigger and better things. I will soon be following in the footsteps of my friends who have graduated with honours from university and have started their career in the big wide world.
I am going to miss university though. I have met some amazing people who will remain my friends for life. I'm so proud of each and every one of them. One of my friends is actually moving to Illinois to start her career, and with the help of a professional resume writing service like https://www.arcresumes.com/local/illinois/, she has had many job offers come in already. I am so proud of her, and I am hoping to achieve the same when I finally join the Pumphouse Theatre in the coming weeks.
I started studying English and Italian at l'Universite Jean Moulin in Lyon in France and then went to the University of Arizona in the US to complete my exchange year abroad. I didn't unpack and went straight to Naples in Italy to complete my master degree in Italian. I was then offered a job to teach French to countryside Australia for a year in Warrnambool, Victoria, at the end of the Great Ocean Road. I then took a plane for San Francisco to do a one month mission as a volunteer at the Alliance Francaise.
I was looking for an internship in Auckland and I came across the Pumphouse Theatre website and I felt like applying straight away… I had a good feeling.
So here I am now, in Takapuna, by the lake; just what I needed, a calm and peacefull workplace.
You'll see me at the box office during the week and on some nights. I will also answer your calls and e-mails and I'll help organising The PumpHouse's 40th Anniversary celebrations in early May.
I really feel really lucky to be here around such a friendly team that welcomed me so well.
See you soon at the Pumphouse Theatre!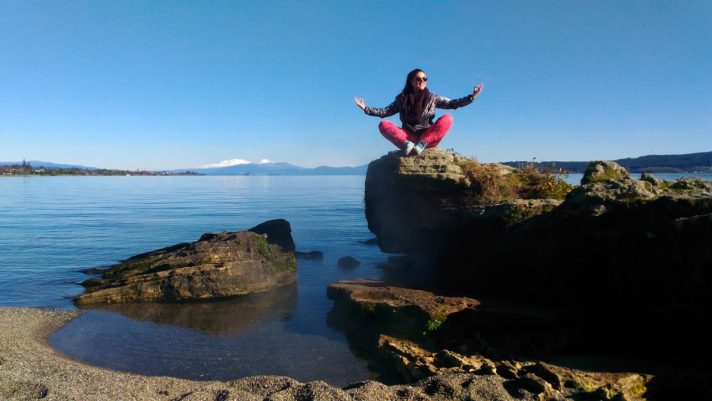 Loved my trip to beautiful Lake Taupo – just slightly bigger than Lake Pupuke