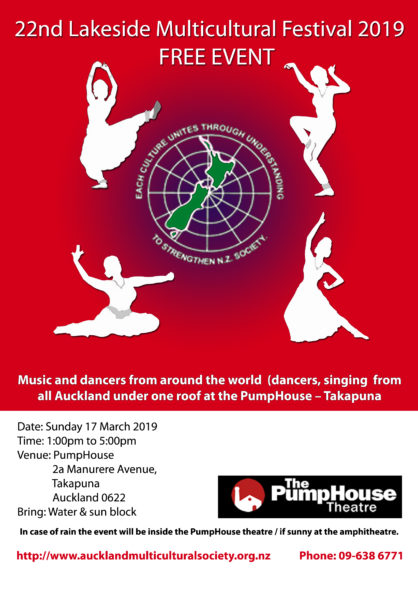 Dates and times
Sunday, 17 March 2019
Sorry, this event has been cancelled
Venue
The PumpHouse Amphitheatre
Prices
How to get tickets
Sorry, this show is over.
About
Due to the tragic events in Christchurch, the Auckland Multicultural Society's Lakeside Multicultural Festival planned for Sunday has been cancelled.
Below is a message for the society President:
To all Members of Auckland Multicultural Society and to all performers
 
It is with great sadness in my heart that such atrocity has happened in this beautiful country of ours. Yesterday was, as the Prime Minister put it, "a black day for New Zealand".
 
Our heartfelt sympathy goes to all our brothers and sisters of the Muslim community in Christchurch and especially those families who have lost loved ones. May their souls rest in Peace.
 
As this tragedy not only affects the Muslim community but the whole New Zealand nation, we have decided to cancel the 22nd Lakeside Multicultural Festival 2019 Sunday 17 March 2019 to show our support for the Muslim community.
 
As the Festival is meant for all our communities to celebrate our cultures, the hearts and minds of the performers would be with those who have lost their lives and they would not be able to perform to their potential.
 
Thuten Kesang
President
---
A free event with four hours of dancing, singing and amazing colourful costumes from many ethnic groups living in Auckland.
Some groups include audience participation, which makes this event extremely enjoyable and vibrant.
The experience is like travelling around the world in one spot!
Featuring ethnic groups from Colombia, Chile, Peru, England, France, Spain, Romania, Dalmatian, Middle East, Korea China, Taiwan, Sira-Lanka, Ukraine, Russia …
The Lakeside Multicultural Festival takes place in the outdoor Amphitheatre at The PumpHouse – or indoors in the event of bad weather.