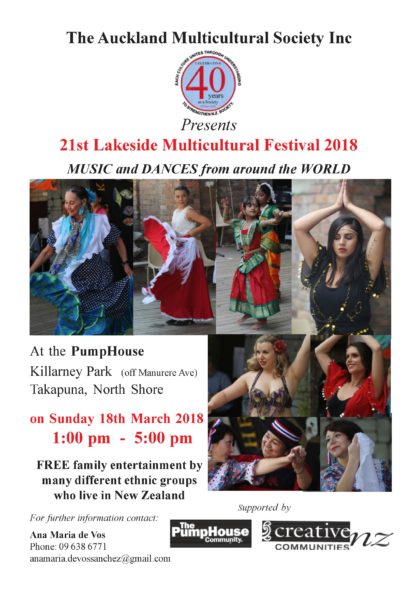 Dates and times
Sunday, 18 March 2018 - 1:00 pm to 5:00 pm
Venue
The PumpHouse Amphitheatre
Prices
How to get tickets
Sorry, this show is over.
About
A free event with four hours of dancing, singing and amazing colourful costumes from many ethnic groups living in Auckland.
Some groups include audience participation, which makes this event extremely enjoyable and vibrant.
The experience is like travelling around the world in one spot!
Featuring performances by:
Joy International Folk Dancers Inc.
Iranian Sunshine dancers
Spanish Fiesta Dancers
Folkore Chileno Latino
Doina Romanian Folk Dancing group
Belly dance Group VOLGA
Woori Choom Korean Dancers
Duo Flamenco
M-Y Golden Ballard's (play instruments & sing)
Spirit Dance – Tribal Belly dance
Folk Group "Singing Nation"
Bulgarian Roses
Meadowbank May Pole Dancers
La Burrée
The Lakeside Multicultural Festival takes place in the outdoor Amphitheatre at The PumpHouse – or indoors in the event of bad weather.