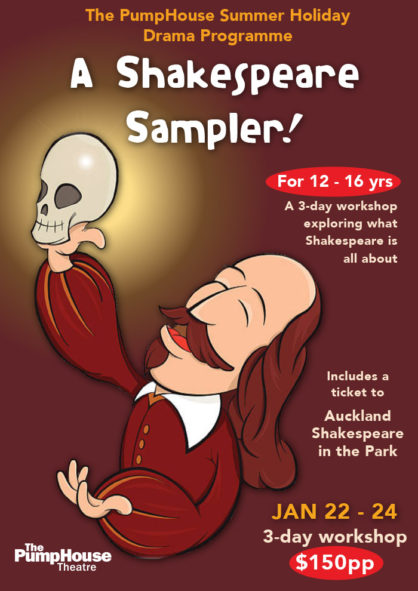 Dates and times
Mon Jan 22 - Weds Jan 24
9am - 3pm each day
Venue
The PumpHouse Theatre
How to get tickets
Sorry, this show is over.
About
A school holiday drama programme to demystify the Bard.
For 12 – 16 years
In a 3 day workshop, PumpHouse drama teacher Mags Delaney takes young people on an exploration of Shakespeare's world.
The perfect introduction to the brilliance of William Shakespeare, this workshop is not just for young fans and aspiring actors, it's also designed for young people who may find Shakespeare weird, boring or irrelevant and who may have no experience with drama at all.
Workshop focus includes:
What did Shakespeare write about? (exploring the plays)
Focusing on tragedy and comedy – clowning and emotions
Shakespeare's famous characters – Heroes, Villains, Clowns.
Modernising Shakespeare to make it understandable
Performing Shakespeare outdoors
The workshop fee includes a ticket to see either Romeo and Juliet or The Comedy of Errors at The PumpHouse
Attendees need to bring lunch, snacks and a drink.
---
Presented By