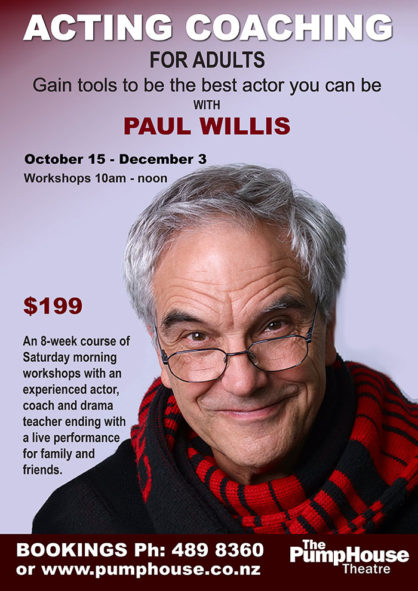 Dates and times
Workshops:
Saturday October 15 - 10am till noon
Saturday October 22 - 10am till noon
Saturday October 29 - 10am till noon
Saturday November 5 - 10am till noon
Saturday November 12 - 10am till noon
Saturday November 19 - 10am till noon
Saturday November 26- 10am till noon
Performance evening:
Saturday December 3
Venue
The PumpHouse Theatre
Prices
How to get tickets
Sorry, this show is over.
About
Acting Coaching with Paul Willis
Gain tools to be the best actor you can be
Join Paul Willis, experienced actor, coach and teacher, to explore acting in its many forms. This course is for adult actors, who want to develop their performance to a new level. Participants will learn to give a richer, more authentic and enjoyable performance for themselves and for their audiences; a performance that will be delivered with more of the passion and detail of a skilled professional actor.
This series of eight practical workshops will give participants a range of techniques and a greater understanding of a variety of acting styles. Each workshop will incorporate large and small group work and include individual feedback from the coach.
Workshops will cover a variety of topics including:
• Increasing one's presence on stage – basic techniques reviewed, body and vocal technique.
• Finding Realism in acting – provocations and improvisation as rehearsal process and performance. Action, exploration and attention.
• Shakespearean Theatre – Understanding and 'physicalising' language, stage usage and finding character in Shakespeare.
• Comedy – Physical comedy of farce and clowning. Modern situation comedy and comedy timing.
The last session of the course will be an evening performance for family and friends with notes available afterwards.
About Paul Willis
Paul A. Willis most recently appeared in the Company of the Pop Up Globe Theatre in Twelfth Night (Andrew) and Romeo and Juliet (Peter). For many years Paul worked at Birkenhead College as HOD Drama, and he has worked in both film and television in New Zealand.
http://www.imdb.com/name/nm1838910/
Hailing from America, Paul was first an apprentice, then later worked and taught, at the Company of the American Conservatory Theatre in San Francisco. He subsequently performed with a number of Repertory Theatre Companies in the U.S. before moving here some twenty years ago.
As well as being an experienced stage and screen actor, and a highly-regarded teacher, Paul has worked as a professional clown, mime, storyteller, puppeteer, animator, quick sketch artist and illustrator.
Reviews of Paul's performance in Shakepseare's Globe, Twelfth Night 2016:
"Paul A Willis as Sir Andrew was more of a buffoon but held the overacting in check, providing a performance that delighted the audience."
Pop Up Globe, Twelfth Night (John Daly-Peoples, National Business Review)
"Crucial to the comedy are Newborn in magnificent voice, the subtly nuanced performance of Willis and … profoundly authentic Stephen Butterworth as Maria. Each links with the others to create a prodigiously funny trio … a comic team to die for."
Pop Up Globe, Twelfth Night (Lexie Matheson, Theatreview)
"Paul Willis' Peter is also an endearing delight, his musical musing in act IV scene V bringing a sorrow in contrast to his previous comedic scenes without losing the lightness of one of the play's lesser produced roles."
Pop Up Globe, Romeo and Juliet (Matt Baker, Theatre Scenes)
"Paul Willis elicits considerable sympathy as the put-upon servant"
Pop Up Globe, Romeo and Juliet (Paul Simei-Barton, NZ Herald)
Testimonials from Paul's former students:
Paul is at once playful, wise and skilled, backed by years of professional acting and teaching experience in the US and New Zealand. Paul helped me deliver in tough emotional scenes as well as roaring comedy. Paul has equipped me with pragmatic tools I use consistently in my work and encouraged me to go far beyond my comfort zone. Paul is a joy to be taught by and his performances this year at the Pop Up Globe were an absolute delight.
Chye Ling Huang – founder of Pretty Asian Theatre, professional actress, play write and puppeteer.
I have known Paul for many years primarily though our work at the American Conservatory Theatre. As an actor and teacher, Paul has applied creative energy and cheerful spirit with outstanding result…..He is a masterful practitioner and teacher.
Ed Hastings – Director of American Conservatory Theatre
(Paul) Willis gave me a sense of self-worth and access to an imaginative life that at that stage in my life, school had singularly failed to provide… He definitely played a major role in me finding my inner confidence, that I have now later in life.
Zakk d'Larté – designer, model & actor (Fabulosity Productions)
Video
---
Presented By