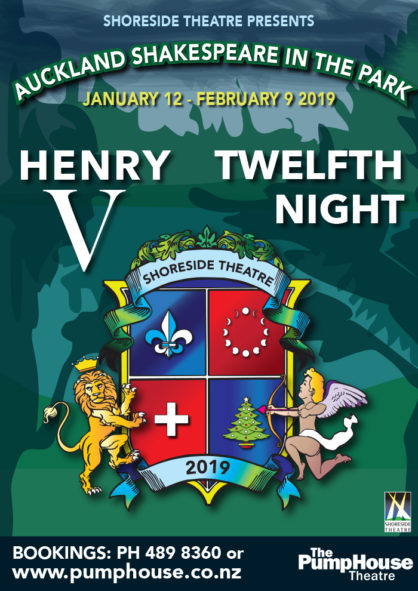 Dates and times
All Sessions 7:30 pm start
Season runs from Sat, 12 January to Sat 9 February 2018
Click to book for show dates and time
Venue
The PumpHouse Amphitheatre
Prices
Single Show - Full Price
Adults $28, Child $15, Student $22, Senior $25, Friend of The PumpHouse $22
Season Pass - Full Price
Adults $44, Child $26, Student $35, Senior $38, Friend of The PumpHouse $30
Group and School discounts also available
Additional fees
Each booking attracts a Booking Fee of $5.00 per booking and a Card Processing Fee of 2.5 percent
Avoid booking fees by joining Friends of The PumpHouse
How to get tickets
Sorry, this show is over.
Event type
About
SHAKESPEARE WOULD BE PRETTY PLEASED
Shoreside Theatre's aspiration is to present genuine Shakespeare and in this 23rd consecutive summer Shakespeare season it's all the more entertaining and dramatic for that. With alternating performances in the PumpHouse Amphitheatre you have the choice of a great history play or his best comedy – or both. Shakespeare would be pretty pleased that his plays are being professionally performed and stay true to his visualizations.
Season Pass – Special discounts when you book both shows
If you'd like to take advantage of the season discount, book both shows at the same time.  Great discounts apply. Discounted ticket rates are also available for schools and large groups. Please email info@pumphouse.co.nz with group rate enquiries.
---
Henry V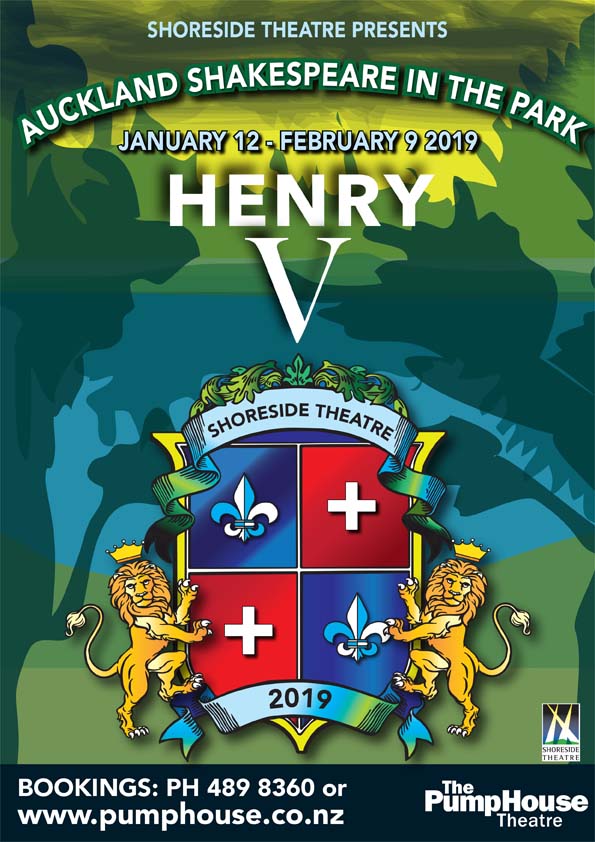 Book for Henry V
Shakespeare's Henry V celebrates one of the most charismatic monarchs in British history and is a great patriotic drama.
There is a justifiable pride in brilliant leadership whether of Henry V (or Winston Churchill in more recent times) when underdogs could prevail and British troops, however diverse their origins united to defeat a formidable foe.
How rousing, then, Henry's "Once more unto the breach, dear friends, once more; Or close the wall up with our English dead" and the famous St Crispin's Day speech "We few – we happy few".
Henry V tries to grab the throne of France through a claim of lineal descent. The French, being unreasonable, don't see it this way and the Dauphin answers Henry's claims with an insulting gift of tennis balls. Henry invades and after a great victory at the Battle of Agincourt, he marries Katherine and gets the French king to name him heir to France.
Three of Shakespeare's favourite rogues, Pistol, Nym and Bardolph bring laughs a-plenty and mighty speeches from Chorus (Shakespeare's personal role) and the wonderful Welsh captain, Fluellen add to the excitement.
Directed by Carol Dumbleton
Twelfth Night
Disguises, Trickery and a bit of Cross-Dressing.
In Twelfth Night Shakespeare has Cupid, the god of love working overtime and uses intrigue and disguise (girls dressed as boys). Dressing up and masking was very popular in this age because it allowed flirting with anonymity.
The play centres on the twins Viola and Sebastian who are separated in a shipwreck. Viola having been swept ashore disguises herself as a man (Cesario) and finds work in the household of Duke Orsino. She quickly becomes favoured as a page but falls in love with Orsino – a bit difficult as he thinks she's a man. But the Duke is enraptured with Olivia and when Cesario is sent to her as a messenger Olivia herself falls for Cesario also believing her to be a man.
The love triangle is complete: Viola loves Orsino, Orsino loves Olivia and Olivia loves Cesario – but everyone is miserable.
Things get more complicated when moronic Sir Andrew Aguecheek and a self-important servant, Malvolio get caught up in the schemes of Sir Toby Belch who leads each to believe Olivia loves him.
Meanwhile Sebastian whom Viola believed had perished arrives and many comic situations of mistaken identity ensue. Shakespeare ensured this play was sublimely farcical.
Directed by James Bell
About The PumpHouse Amphitheatre.
The amphitheatre is tucked in behind the French Rendez-vous Cafe building next to The PumpHouse main theatre. Access is via the courtyard stairs adjacent to the main theatre. Wheelchair access to the amphitheatre is via a path on the park side of the complex.
Tickets to performances in the amphitheatre are general admission i.e seating is 'first come first served'.  The amphitheatre has tiered wooden bench seating. Seats do not have back support. If you require a seat with back support please advise the ushers when you arrive at the venue. They will provide a chair for you in the back row. Similarly, if you have any other special requirements, e.g mobility access assistance, please see one of the ushers when you arrive.
Audience members often bring cushions to sit on for greater comfort and blankets in case the evening cools down towards the end to the show. If the mozzies are biting this summer, it might a good idea to have repellent on hand.
Sorry, BYO alcohol isn't permitted under our Liquour Licence but the French Rendez-vous Cafe Satellite Bar will be open and the usual sausage sizzle will crank into action at interval.
In the event of persistent bad weather a performance may take place inside the main theatre.  If the weather looks changeable, bring a raincoat and something waterproof to sit on. If there's a passing shower, the performance may go ahead outdoors as planned. If a performance is cancelled, tickets may be transferred to another date in the season without incurring a transfer fee.
---
Presented By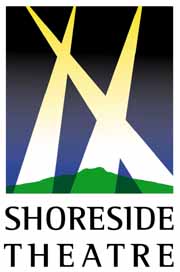 Shoreside Theatre
Shoreside Theatre was established in 1976 beginning as two separate entities: Milford Playhouse Incorporated and Milford Little Theatre.  We love to help anyone interested in theatre to participate or develop their skills. We produce "Shakespeare in the Park" every summer.