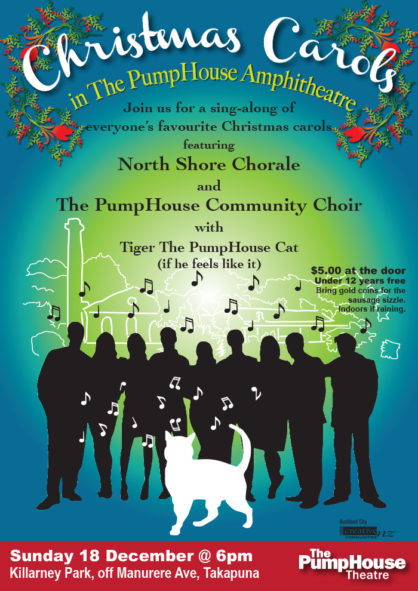 Dates and times
Sunday December 18th at 6pm
Venue
The PumpHouse Amphitheatre
Prices
Entry $5
Under 12 years free
How to get tickets
Sorry, this show is over.
Event type
About
During Christmas week we host Christmas Carols in the Amphitheatre.
This is a fun family day which was hugely popular last year and we're pleased to announce that entry for under 12s will again be free this year. The PumpHouse Community Choir and North Shore Chorale will be performing everyone's favourite Christmas songs and Carols which the audience can to sing along to.
Don't worry if you don't know the words – we'll give you a songbook to sing from. Make sure you bring some gold coins for the sausage sizzle and ice-creams.
We listened to your feedback about last year's time slot which everyone says was too early because the afternoon sun was a tad too burny. So we've pushed it out to a 6pm start. It might pay to bring a hat anyway as the last of the day's heat dissipates.
So see you here on Sunday December 18th at 6pm – bring your voices.
And if singing with others is something you really enjoy, you can also join The PumpHouse Community Choir and be a part of the performance on stage. Click here to find out more.
---
Sponsors
---
Presented By