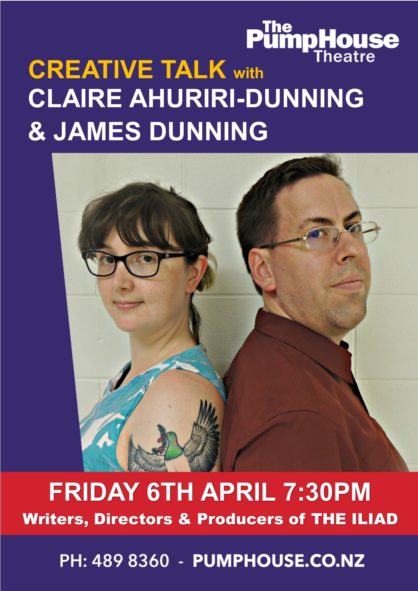 Dates and times
Venue
The Coal Bunker Studio
Prices
How to get tickets
Sorry, this show is over.
Event type
About
Join us for another of our regular CREATIVE TALK events with speakers Claire Ahuriri-Dunning & James Dunning.
Claire & James are the founders of Pearangi Creative and they're genius minds behind the upcoming production of 'The Iliad' which will be staged in our Coal Bunker Studio later in April. Claire is an award-winning playwright and, along with husband James, has written, directed and produced this new adaptation of the classic Greek tragedy. In a twist on Homer's original work, the action has been transported to a First World War setting in commemoration of the centenary of the end of World War One.
Claire and James will talk us through the creative process involved in getting an idea out of your head, into a script, and on to the stage. Start thinking of some good questions!
For more information contact Julia:  julia@pumphouse.co.nz
---
Presented By