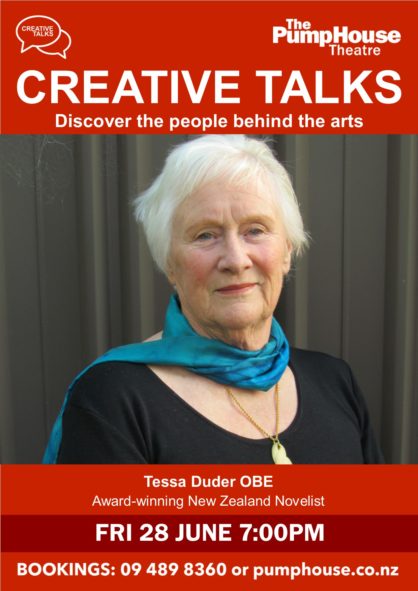 Dates and times
Friday 28 June 2019 at 7:00 p.m.
Cafe open from 5.30pm
Venue
French RendezVous Cafe
Prices
Free Event
Additional fees
No Fees
How to get tickets
Sorry, this show is over.
Event type
About
Tessa Duder OBE is the author of more than 45 books including her best-known novel Alex, which is being reissued in September 2019.
Her latest book First Map: How James Cook Charted Aotearoa which is to be published later this year to coincide with the Tuia – Encounters 250 commemoration of James Cook's 1769-70 journey around New Zealand. During this voyage he charted Aotearoa New Zealand, a feat regarded as one of the most extraordinary achievements in the history of cartography.
Tessa's book reveals a story of courage, dogged perseverance and Cook's extraordinary skills as both cartographer and seafarer.
We are privileged to have her come and share with us the background to this book and her writing process.
About Creative Talks
Stories are at the heart of creativity. The PumpHouse Theatre's series of Creative Talks is an informal early-evening event where local artists and creatives share their stories and ideas with our community whether they have a lifelong passion or are new to the arts.
This programme of free Creative Talks spotlights a wide range of the arts, giving audiences a behind the scenes insight into the world of the creative process.
From multicultural arts to theatrical performance, by way of actors, authors, poets and playwrights, there is something for everyone with an interest in the arts and what inspires and drives creativity.
Creative Talks are held monthly at The PumpHouse Theatre and entry is free.
---
Presented By