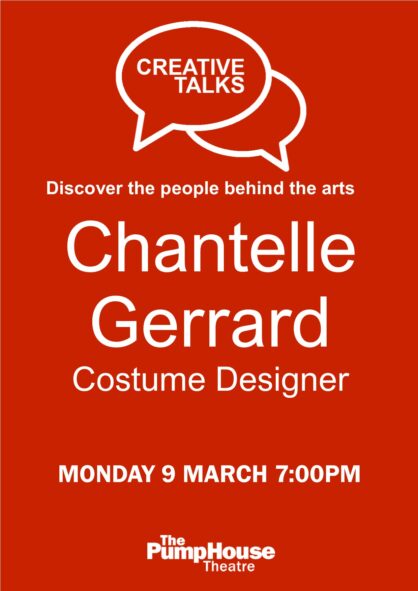 Dates and times
Venue
The Coal Bunker Studio at The PumpHouse Theatre
Prices
Free event
Additional fees
No Fees
How to get tickets
Sorry, this show is over.
Event type
About
Chantelle Gerrard has more than 15 years' experience in the industry, specialising in the design, supervision, and fabrication of costumes for film, theatre, and one-off commissions. Head of Wardrobe for Pop-Up Globe since 2016 until its final season, she was also the designer for their 2019 season of  'Much Ado About Nothing' and 'Romeo and Juliet'.
As Head Designer for over 70 stage productions in New Zealand and the United Kingdom, Chantelle has worked for both large touring companies and independent productions. She has constructed space suits for the 2015 film 'The Martian', was Costume Design for the 2010 feature film 'Insatiable Moon', as well as the Designer and constructor for all of Tim Bray Theatre Company's Productions from 2006 -2009.    Her other film credits include the Underworld movie franchise and the television series Game of Thrones.
Chantelle has also been a dresser for large scale theatre productions and NZ Opera, an opera singer (lead soprano) on tour with two companies between 2009-2013, and a costumed interpreter at the Auckland Museum, so knows first-hand how costumes should move on actors and singers.
She is passionate about anything that involves history, fabric, and the arts.  Her greatest love is historical costume, which has taken her to Ireland and the UK to further her research.
We welcome Chantelle to The PumpHouse to share her passion with us.
About Creative Talks
Stories are at the heart of creativity. The PumpHouse Theatre's series of Creative Talks is an informal early-evening event where local artists and creatives share their stories and ideas with our community whether they have a lifelong passion or are new to the arts.
This programme of free Creative Talks spotlights a wide range of the arts, giving audiences a behind the scenes insight into the world of the creative process.
From multicultural arts to theatrical performance, by way of actors, authors, poets and playwrights, there is something for everyone with an interest in the arts and what inspires and drives creativity.
Creative Talks are held monthly at The PumpHouse Theatre and entry is free.
---
Presented By