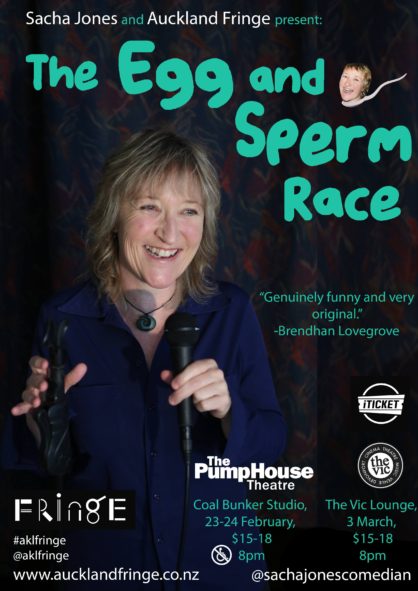 Dates and times
Friday, 23rd Feb 2018 - 8:00 pm
Saturday, 24th Feb 2018 - 8:00 pm
Venue
The Coal Bunker Studio at The PumpHouse
Prices
| | |
| --- | --- |
| Full price | $18.00 |
| Concession | $15.00 |
Additional fees
See iTicket website for details
How to get tickets
Sorry, this show is over.
Event type
About
Who knew the battle of the sexes could be so funny?
Comedian Sacha Jones didn't until she took to the comedy stage in phase three of her mid-life crisis and discovered that her feminist angst and hard-won PhD in the subject was actually useful for something — making other people laugh.
It was also cheaper than buying a pub, a somewhat more popular solution to the mid-life blues. And Sacha's husband agreed, though that was before he knew that a good portion of her comedy would be about him. Not many comedians have husbands and Sacha quickly realised the potential to break new comedy ground by bringing 'the husband', and her husband in particular, to the comedy stage. So far their marriage has survived.
But in 2018 Sacha is taking her mid-life gamble to the next level by bringing her cutting-edge comedy about marriage, motherhood, masturbation and madness to the stage in three intimate, hour-long shows.
Please join her and see why everyone, even her husband (for now) is laughing.