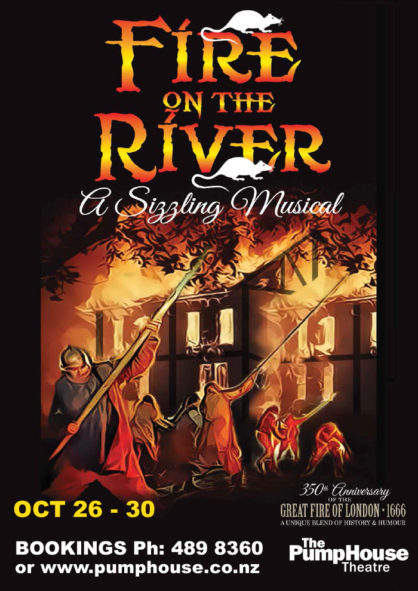 Dates and times
Wed, Oct 26 - 8:00pm
Thu, Oct 27 - 8:00pm
Fri, Oct 28 - 8:00pm
Sat, Oct 29 - 3:30pm
Sat, Oct 29 - 8:00pm
Sun, Oct 30 - 3:30pm
Venue
The PumpHouse Theatre
Prices
| | |
| --- | --- |
| All Tickets | $30.00 |
| Friends of The PumpHouse | $27.00 |
| Group 10+ | $25.00 |
Additional fees
| | |
| --- | --- |
| Booking Fee | $5.00 per booking |
How to get tickets
Sorry, this show is over.
Event type
About
The riotous new musical Fire on the River is set during the Great Fire of London in 1666.
Historic characters and first-hand on-the-spot accounts from London writers are woven into the narrative and accompanied by 28 musical numbers spanning genres and generations!
Far from a quiet history lesson, Fire on the River embodies some of the major personalities of the day – combining humour with romance, a touch of drama and a lot of original songs and lyrics.
The characters include; famous writers Samuel Pepys and John Evelyn, the newly restored monarch King Charles II and his vampy mistress Nell Gwynne, the squabbling Farriners who owned the Bakery in Pudding Lane where the fire started, scary Mother Shipton who foretold London's destruction by fire and a very pompous Lord Mayor, Sir Robert Bludworthy.
September 1st 1666, a boy and a girl meet at the historic Queenhithe Market by the River Thames. London is only just recovering from last year's eruption of rats, spreading a deadly plague to thousands, meanwhile a long spell of hot dry weather has seen the medieval City of London become tinder dry.
Everything is pointing to a perfect (fire) storm.
Click the link below to hear the writer Graeme Webber talk about his inspiration for the show on Arts on Sunday with Lynn Freeman
http://www.radionz.co.nz/national/programmes/standing-room-only/audio/201818381/the-great-fire-of-london-inspires-a-musical-350-years-later
---
Reviews
Nik Smythe (Theatreview): Graeme John Webber has achieved something only a handful of New Zealanders can lay claim to: writing, composing and producing an original full-scale musical. For this alone he should be quite proud, as must his sizeable cast and crew who span a few generations and degrees of performance experience. Read more »
Dionne Christian: It's certainly a sizzling moment in history to recreate: a time of massive upheaval, Charles II restored to the Monarchy after hard-line puritan Oliver Cromwell's 11-year rule and a city recovering from a devastating plague outbreak. Read more »