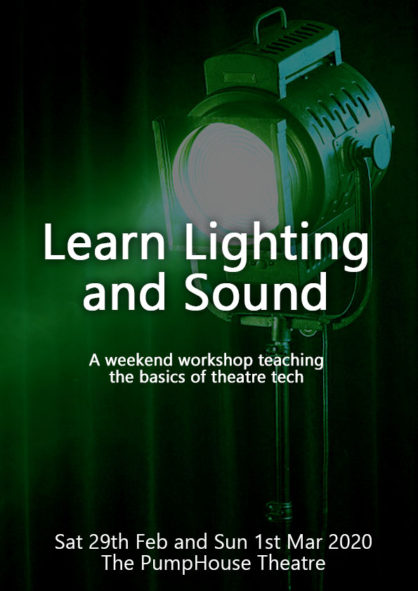 Dates and times
Saturday 29 February 10am - 5pm
Sunday 1 March 10am- 5pm
Venue
The PumpHouse Theatre
Prices
How to get tickets
Sorry, this show is over.
About
This is an introductory 2-day workshop for those interested in learning Lighting and Sound in theatre, but could be applied to professional work, including film and setting up music concerts etc. It will consist of a mixture of theory and hands-on experience.
It will provide the solid basics of theatre tech, which can then be then expanded upon by helping in amateur theatre, school etc.
Course Overview
Theory:
The different types of lights, and what they're used for (including LED and moving lights, strobes, UVs and smoke machines)
Introduction to a Mac 250 moving light (thanks to Kenderdine Electrical for lending this to us)
Lighting dimmers
Patching dimmer channels- physical plugs and soft patching
Controlling dimmers- DMX, lighting boards and introduction to Light Factory a lighting cue program
Basic lighting rig design
The different types of cables and plugs.
Speakers- main speakers, sub-woofers and monitors, (passive and active)
Playing sound effects from a CD player or laptop (with Winamp or a cue program)
Sound mixing board
Cross-Over amp for sub-woofer
Microphones (hand-held and wireless)
Hands-On work:
Rigging lights (including LEDs)
Gelling lights to get different colours
Focussing lights on stage
Putting light levels up and down, and programming in a scene with a lighting board
Plugging in speakers
Running, securing and coiling cables
Playing sound samples from a Laptop, and setting levels on a sound mixer
House, Safety, Emergency and Backstage Lights, Extractor Fans/Air Conditioning, Heaters, Backstage Audio Monitors
RTs (Walkie-Talkies), and Pumphouse comms system
Other theory:
General safety- overview of WorkSafe rules
Rigging from the catwalk in a harness- overview of WorkSafe courses
Working outside- The Pumphouse Amphitheatre
Fault finding and fixing
Teamwork
Pyrotechnics- getting a licence etc
Getting involved in amateur theatre in Auckland
Stage Management
Makeup and Hair
Costumes
Set and Props
Theatre and Production Committees
Location of different Theatre Groups, and Theatres
---
Sponsors