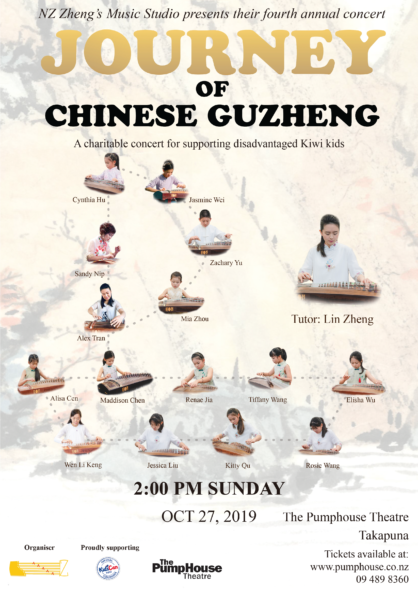 Dates and times
Venue
The PumpHouse Theatre
Prices
How to get tickets
Sorry, this show is over.
Event type
About
Let Zheng's Music Studio take you on a journey this October. In the 1.5 hours of Guzheng music, a wide range of performers will showcase 10 pieces that are all unique to different parts of China. Not only will you be able to sample different Guzheng music from different regions but this will also be a great opportunity to explore the different genres that make up Chinese traditional music.
Would you be able to tell the difference between the music of the South compared to the North? Or what is so unique about Xinjiang music that gives it such unique flavour? Come and find out on the 27 October at the PumpHouse.
About Zheng's Music Studio
The studio is dedicated to providing education in the art of Guzheng Music through performance and experience. Zheng's Music Studio aims to promote traditional Chinese culture and art and encourage art communications between Western and Chinese cultures. The studio devotes itself to culture interests and love of music, spark musical inspiration and enrich lives with art.
It has held three successful annual concerts: the Rhythm of Chinese Guzheng (2016), the Charm of the Chinese Guzheng (2017) and the Sound of the Chinese Guzheng (2018).
Since establishing, the studio has had the opportunity to perform at many different venues, such as the Auckland Art Gallery and the Auckland War Memorial Museum. The studio was honoured to have been invited by the Ethnic Communities Minister of New Zealand to perform at the 2017 Chinese New Year celebration in the Beehive. The studio was also invited for New Zealand Music Month events at community libraries. They also regularly take part in major cultural events such as the Auckland Lantern Festival, the Chinese New Year Festival, and Mid-Autumn Festival and gives back to the community by performing at various rest homes and retirement villages.
This year we feature: Lin Zheng, Alisa Cen, Maddison Chen, Cynthia Hu, Wen Li Keng, Jessica Liu, Sandy Nip, Kitty Qu, Renae Jia, Alex Tran, Rosie Wang, Tiffany Wang, Jasmine Wei, Elisha Wu, Zachary Yu, Mia Zhou.