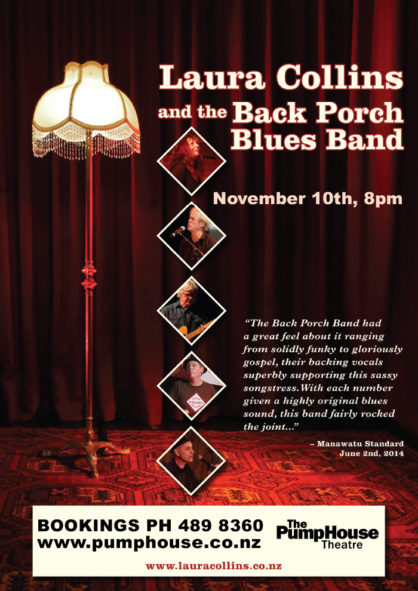 Dates and times
Venue
The PumpHouse
Prices
| | |
| --- | --- |
| All Tickets | $25.00 |
| Friends of The PumpHouse | $22.00 |
| Friends of The PumpHouse (Couple) | $22.00 ea |
Additional fees
| | |
| --- | --- |
| Booking Fee | $5.00 per booking |
How to get tickets
Sorry, this show is over.
Event type
About
Laura Collins and the Back Porch Blues Band bring blues, ballads, banter and bling to your Friday night.
Wellington based Laura Collins and the Back Porch Blues Band are dynamic, masterful and all about entertainment.
Collins, who is known for being an engaging front woman, likes to move between ballsy blues and soulful ballads, making them her own. You'll no doubt hear a little Nina Simone, a little Etta James and Laura's take on some unsuspecting men.
Laura says "Blues comes straight from the heart and that's just how I like it, it's accessible, joyful, heart full music and not only that it makes me want to move – what's not to like?"
Laura's band are all long-time players in the Wellington and National music scene. Wayne Mason well-known singer songwriter, also one hell of a fine boogie piano player 'firing it up' on their behalf. Think Fats Domino, think Dr John, think Professor Longhair and you'll be in the right honky tonk.
John O'Connor, a masterful, pedal-free guitarist who's played with everyone along the way, from BB King to Kiri Te Kanawa. In the engine room George Barris on warm upright bass (in his early days part of Highway) is joined by Pete Cogswell on the 'back porch' drums.
"Having a pulled-back rhythm section just allows us to be lower volume and bring a really warm vocal led sound. We'll still make you want to dance though, this band just swings."
Let the Back Porch Blues Band add some heat to your Friday night.
---
Reviews
Cameron Scott: Visiting band turns on top class entertainment

The CAPACITY crowd at CocoPutt in Aroa on Thursday night probably thought they were in for some pretty good entertainment from visiting Wellington, New Zealand band Laura Collins and the Back Porch Blues Band.

They were wrong. It wasn't just good; it was sensational..

Singer Laura Collins has plenty of stage presence as well as abundant energy and set the mood for the memorable night that lay ahead with her powerful vocal style and an ever-ready flow of relaxed banter.

She was backed by three New Zealand legends in the world of rock and blues music – make that four if you include drummer Mo Newport, a former Wellingtonian, who we of course now claim as Rarotonga's own.

On piano and vocals was singer-songwriter Wayne Mason, whose musical pedigree stretches back decades (if you've been around a while you might remember a New Zealand band called Formyula and Mason's 1969 hit Nature), while on guitar was the astonishingly talented John O'Connor, who has backed some of the world's best entertainers and who set the stage alight with some blistering guitar solos that drew rounds of applause before some songs had even ended.

On bass was the legendary George Barris, who says he has been in more bands than he can remember, but whose history goes back to top New Zealand bands of the late 60s and early 70 such as The Underdogs and Highway.

And on drums was Rarotonga's own Mo Newport, who despite having practiced with the band only twice, put extra muscle into an impeccably tight rhythm section that soon had the crowd rocking in their seats (there was little space in the packed room for anyone to follow Collins' urgings to get up and dance).

The band's advance publicity implied that Collins' voice was extraordinarily versatile, and that proved to be true, as she moved through songs by everyone from Bob Dylan to the late Levon Helm, to original material and ballsy versions of numbers originally performed by the likes of Koko Taylor.

This was blues, boogie and more at its very best and when the last set ended on an unexpected but brilliant note with the band's version of The Beatles' classic Let It Be, the crowd was begging for more. They got it, with an up tempo blues number before the band left the stage for the last time and a very happy crowd wandered off into a warm Rarotonga night.

Laura Collins and the Back Porch Blues Band also played at Sails last night and if you missed that performance too, there's one final chance to catch some truly top class entertainment at Club Raro tomorrow night, starting at 7pm.

Take my advice and don't miss it.
Read more »
Videos