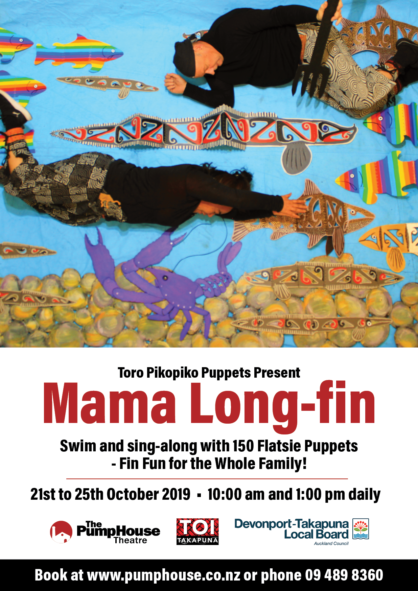 Dates and times
Mon, Oct 21 - 10:00am
Mon, Oct 21 - 1:00pm
Tue, Oct 22 - 10:00am
Tue, Oct 22 - 1:00pm
Wed, Oct 23 - 10:00am
Wed, Oct 23 - 1:00pm
Thu, Oct 24 - 10:00am
Thu, Oct 24 - 1:00pm
Fri, Oct 25 - 10:00am
Fri, Oct 25 - 1:00pm
Venue
The PumpHouse Theatre
Prices
How to get tickets
Sorry, this show is over.
About
Unfortunately this season ended on Thursday, 24th October 2019
Toro Pikopiko puppets present an interactive eco puppet musical for children, who learn what is needed to keep our waterways safe and healthy for all the aquatic life that inhabit them.
Audience children (and adults) become volunteer puppeteers helping animate eels, trout, farm animals, humans and many kinds of marine creatures in an immersive hour-long singing and dancing, environmental adventure.
TORO PIKOPIKO PUPPETS are New Zealand's most established puppet-performance duo, specialising in Māori culture themed musicals and action-learning games for families. This is their 16th and latest theatrical puppet production, to be performed in English with Te Reo Māori waiata.
The premiere season of MAMA LONG-FIN takes place at the Pumphouse Theatre in Takapuna, which lies on the edge of Lake Pupuke – itself a major eel habitat.  MAMA LONG-FIN is being workshopped with children from Takapuna Primary School, that also neighbours Lake Pupuke, and who will participate in the show's premiere performance.
COME SWIMMING WITH MAMA LONG-FIN AND HER SKINNY FINNY FRIENDS!
---
Sponsors
---
Presented By