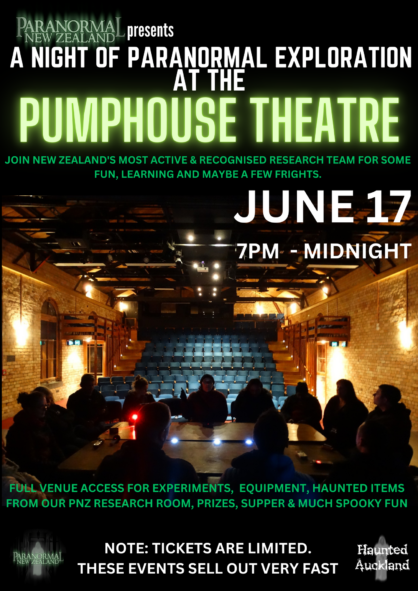 Dates and times
Venue
The PumpHouse Theatre
Prices
How to get tickets
Sorry, this show is over.
Event type
About
A night of Paranormal investigation with New Zealand's most active and recognised Paranormal research team.
Here is your chance to join Paranormal NZ as a Paranormal Investigator for a night of learning and fun in this fascinating and reportedly haunted historical location! Have you got what it takes?
You'll be shown what we do and how we do it. You'll also get to use our equipment for yourself.
We will be conducting experiments and demonstrating some of the many techniques being used worldwide in the search for answers.
Tickets are $50 each. Limited to 22 spaces only. All proceeds go to The PumpHouse Theatre.
Note: These are popular and unique events, so demand is always high. If ghost hunting is something you've always been curious about and wanted to give a go, now's your chance!
What to bring:
• Warm clothing
• Comfortable soft-soled shoes
• A torch
• A camera
• An open mind and a good sense of humour
Disclaimer: Paranormal NZ and The PumpHouse Theatre make no guarantees that ghosts will make an appearance or that paranormal activity will occur on the night. Paranormal NZ or the PumpHouse Theatre cannot be held responsible for any haunting, soul-possession, or poltergeist activity endured before, during, or after participation in the Ghost Hunt.
No alcohol or drugs will be welcome at this event. Anyone under the influence of either will be refused entry.
Anyone misbehaving, causing trouble or a disturbance, caught stealing, vandalising, or being overly disruptive will be dealt with appropriately.
---
Presented By
Paranormal NZ (Formally known as Haunted Auckland) is a Paranormal Research and Investigation group based in Auckland, New Zealand.
We are open-minded, take a level-headed approach to all our investigations and like most other research groups around the world today, try to come from a logical and practical point of view.
For more information see www.hauntedauckland.com