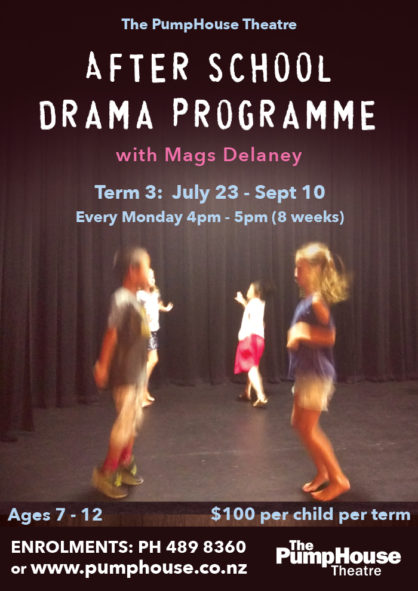 Dates and times
Monday, 23 July 4:00 pm to 5:00 pm
Monday, 30 July 4:00 pm to 5:00 pm
Monday, 06 Aug 4:00 pm to 5:00 pm
Monday, 13 Aug 4:00 pm to 5:00 pm
Monday, 20 Aug 4:00 pm to 5:00 pm
Monday, 27 Aug 4:00 pm to 5:00 pm
Monday, 03 Sep 4:00 pm to 5:00 pm
Monday, 10 Sep 4:00 pm to 5:00 pm
Venue
The PumpHouse Theatre
Prices
How to get tickets
Sorry, this show is over.
Event type
About
Explore the magic of theatre and develop teamwork, social skills, self-esteem and confidence at The PumpHouse After School Drama programme.
Using a variety of drama games, movement, improvisation, mime and speech, young people develop the knowledge, confidence and thinking skills of those with an interest in drama and performance arts – and it's also lots of fun!
Workshops are held on Mondays after school at The PumpHouse within the venue's various spaces.
At the end of each term there will be an opportunity to perform for family members.
About the tutor
Mags' extensive career as a primary school practitioner has provided her with the experience and expertise to work with children of all levels of ability.
She particularly enjoys encouraging children to discover their own unique talent and to share her passion for drama and performance, whether it be on the stage or behind the scenes.
As a practitioner, Mags is experienced in all aspects of theatre craft. For the past decade Mags been part of the production team for Shoreside Theatre's annual Shakespeare in the Park season held in The PumpHouse Amphitheatre.
---
Presented By