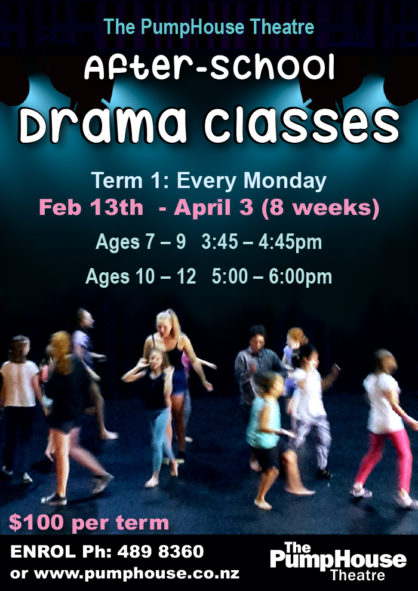 Dates and times
Mondays after school 3.45pm - 4.45pm
Venue
The PumpHouse
Prices
How to get tickets
Sorry, this show is over.
Event type
About
An 8 week programme of workshops devised and hosted by PumpHouse drama teacher Mags Delaney.
As a practitioner, Mags has decades of experience in all aspects of theatrecraft, having worked with many theatre companies both in England and New Zealand, including the Royal Shakespeare Company. For the past decade Mags been part of the production team for Shoreside Theatre's annual Shakespeare in the Park season held in The PumpHouse Amphitheatre.
Mags' 30 year career as a primary school teacher has provided her with the experience and expertise to work with children of all levels of ability. She particularly enjoys encouraging children to discover their own unique talent and to share her passion for drama and performance, whether it be on the stage or behind the scenes.
Workshops are held on Mondays after school at The PumpHouse within the venue's various spaces.
The programme is divided into two age groups
7-9 years and 10-12 years.
Children will learn various performance techniques through movement, improvisation, mime and speech.
This 8 week drama programme also develops and enhances teamwork, social skills, self esteem and confidence.
At the end of the programme the children will have the opportunity to perform for family members.
---
Presented By