Dates and times
Venue
The PumpHouse Theatre
Prices
| | |
| --- | --- |
| Presentations and Overnight Investigation | $99.00 |
| Paranormal presentations only | $5.00 |
Additional fees
No booking fees!
How to get tickets
Sorry, this show is over.
About
Haunted Auckland are heading back to The PumpHouse Theatre – one of their favourite haunts – to spend time talking about ghosts and the paranormal, as well as spending the early hours with the alleged ghostly residents of this stunning 112 year old building situated on the edge of the equally mysterious Lake Pupuke.
Note: This is an event of TWO parts. You can choose to attend either, or both events.
EVENT ONE:TALKING PARANORMAL
7.30pm Tickets for this are $5.
The Haunted Auckland team will give four presentations of various paranormal topics.
Each talk is about 30 minutes.
Topics & Speakers
Sam Collier : Famous ghost photos explained.
Barbara Caisley: EVPs – Recording the deceased?
Kimberley Lendrum: Are Ouija Boards portals to Hell?
Mark Wallbank: Pareidolia – Seeing what the mind wants.
Plus a brief introduction and rundown on who we are and what we do.
Nearing the end, a presentation about the mysterious and eerie, (but beautiful) Lake Pupuke will also be given down by the water.
EVENT TWO: ALL NIGHT GHOST HUNT SLEEPOVER!
From 11pm onwards. (After the presentations)
Tickets for this are $99 and includes the Event One : Presentations evening from 7.30pm.
Hot & Cold drinks and supper included.
TICKETS FOR THE SLEEPOVER ARE LIMITED TO 10 ONLY!
Here is your chance to join New Zealand's most active and recognised Paranormal research team, Haunted Auckland, as a Paranormal Investigator for a HANDS ON night of frights, learning and fun in this fascinating and reportedly haunted historical location!
Have you got what it takes?
Note: This is an R18 only event
Be shown first hand how we conduct some of our investigations.
Learn about the history of the theatre
Use our investigation equipment
Be involved in EVP communication sessions. (Electronic Voice Phenomenon)
Get to see behind the scenes in this fascinating location and get the 'hands on' paranormal experience you've been waiting for!
If you like the idea of being spooked – you'd better get in quick. Tickets are limited. Demand is high – best to book in quick to avoid missing out. No door sales.
What to bring:
Bedding: mattress, pillow, sleeping bag etc. (Note: N0 beds will be supplied. Please come prepared.)
Suitable clothing
Comfortable soft soled shoes
A torch
A camera
An open mind and a good sense of humour
Disclaimer
Haunted Auckland and The PumpHouse Theatre make no guarantees that ghosts will make an appearance or that paranormal activity will occur on the night. Haunted Auckland or the PumpHouse Theatre cannot be held responsible for any haunting, soul-possession or poltergeist activity endured before, during or after participation on the Ghost Hunt.
We do not fake activity. There are no actors in costume and no spooky gimmicks.
This is an R18 event. No alcohol or drugs will be welcome at this event. Anyone under the influence of either will be refused entry.
---
Presented By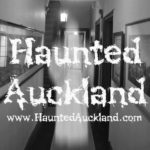 Haunted Auckland is a Paranormal Research and Investigation group based in Auckland, New Zealand.
We are open-minded, take a level-headed approach to all our investigations and like most other research groups around the world today, try to come from a logical and practical point of view.
For more information see www.hauntedauckland.com