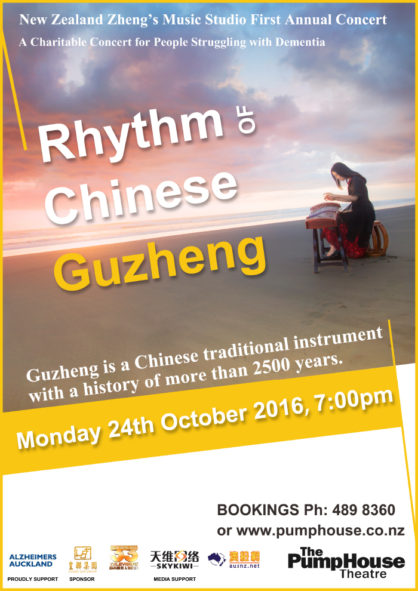 Dates and times
Venue
The PumpHouse
Prices
| | |
| --- | --- |
| All Tickets | $25.00 |
| Friend of The PumpHouse | $20.00 |
Additional fees
| | |
| --- | --- |
| Booking Fee | $5.00 per booking |
How to get tickets
Sorry, this show is over.
Event type
About
Rhythm of Chinese Guzheng
Guzheng, also known as the Chinese zither, is a unique music instrument which originated in China over 2500 years ago.
A series of historic Chinese masterpieces of Guzheng music will be played in the concert, showcasing the development and the magnificent performance of this instrument.
Lin Zheng, founder of New Zealand Zheng's Music Studio, teamed with her students, presents Rhythm of Guzheng to audiences of New Zealand.
Lin started practising Guzheng when she was five. Later, after entering the prominent Xinghai Conservatory of Music, she was handpicked and mentored by Prof. Xiaoming Fang, master composer, Prof. Anhua Chen, master Guzheng artist and founder of the unique performing style of Lingnan, the south of the Five Ridges, Prof. Manqin Zhao, master Guzheng artist, educator and composer, and Associated Prof. Weiwen Chen, master Guzheng artist.
During her bachelor and master study years in the Conservatory, Lin obtained a number of first class honours and her works and performances were awarded at various occasions in China. She is praised as a pioneer of the new generation developing the national music and performance in China.
* National Scholarship Winner for Master Study in the Xinghai Conservatory of Music
* Member of the Guangdong Province Nationalities Orchestra Society
* Member of the Guangdong Province Guzheng Society
* Guzheng Artist of the Arts Group of the Chao Shan General Association of New Zealand
* Member of the New Zealand Asia Pacific Musicians' Association
Recital Program:
-"Fishermen's Song at Dusk"
-"High Mountains and Flowing River"
-"Jackdaw Plays with Water"
-"Lovely Flowers Under a Full Moon"
-"Blue and White Porcelain"
(This schedule may be subject to change)
Approximate Running Time: 7pm-9pm
There will be an interval of approximately 15 mins