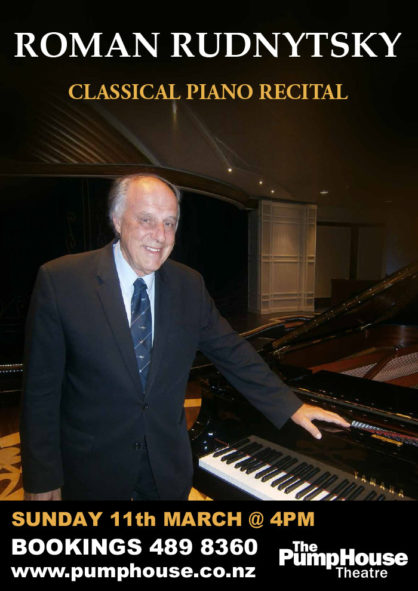 Dates and times
Venue
The PumpHouse Theatre
Prices
Additional fees
No Booking Fees!
How to get tickets
Sorry, this show is over.
About
International concert Pianist Roman Rudnytsky returns to The PumpHouse in March 2018
Born in New York into a prominent Ukrainian musical family, he began the study of piano at age 4 and gave his first full recital at age 7. He is a graduate of the famous Juilliard School in New York and also did additional studies at the Peabody Conservatory in Baltimore, Maryland and at masterclasses in Austria (the "Mozarteum") and Italy.
Rudnytsky is a prize-winner of 10 piano competitions, including such prestigious ones as the International Leventritt Competition (New York) and International J.S. Bach Competition (Washington) and, in Italy, the "F.Busoni" and "A. Casagrande" International Piano Competitions. He has made numerous recordings in Poland, Australia and the United States.
In addition to his many recitals, Rudnytsky has also appeared as a soloist with many orchestras around the world. To date, he has played over 45 different works for piano and orchestra with them. A great honour indeed, he gave the British, Latin American and Australian premiere performances of the recently-discovered Liszt "Concerto No. 3 in E Flat" between 1990 and 1993.
He also conducts master classes and workshops for local piano students and teachers during the course of his travels. The settings for these range from universities to small, rural towns and villages.
Since 1984, he has played concerts and conducted master classes in more than 35 countries. Since 1972, Mr. Rudnytsky has been a member of the piano faculty of the Dana School of Music at Youngstown State University in Youngstown, Ohio (U.S.A.). He is a recipient of that institution's "Distinguished Professor Award" in recognition of his concert activities. He previously served on the piano faculties of the Indiana University School of Music (Bloomington, Indiana) and the University of Cincinnati College-Conservatory, in addition to being "Artist-in-Residence" at two Australian universities.
He will being performing on the theatre's Bluthner Grand.
---
Presented By