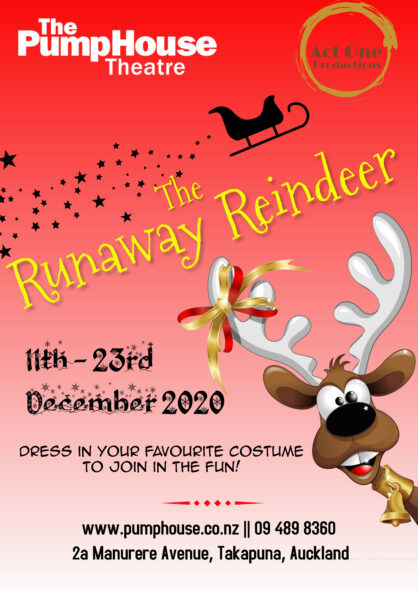 Dates and times
Fri, Dec 11 - 10:30am
Sat, Dec 12 - 10:30am
Sat, Dec 12 - 1:00pm
Sun, Dec 13 - 10:30am
Sun, Dec 13 - 1:00pm
Mon, Dec 14 - 10:30am
Mon, Dec 14 - 1:00pm
Tue, Dec 15 - 10:30am
Tue, Dec 15 - 1:00pm
Wed, Dec 16 - 10:30am
Wed, Dec 16 - 1:00pm
Thu, Dec 17 - 10:30am
Thu, Dec 17 - 1:00pm
Fri, Dec 18 - 10:30am
Sat, Dec 19 - 10:30am
Sat, Dec 19 - 1:00pm
Sun, Dec 20 - 10:30am
Sun, Dec 20 - 1:00pm
Mon, Dec 21 - 10:30am
Mon, Dec 21 - 1:00pm
Tue, Dec 22 - 10:30am
Tue, Dec 22 - 1:00pm
Wed, Dec 23 - 10:30am
Wed, Dec 23 - 1:00pm
Venue
The PumpHouse Theatre
Prices
| | |
| --- | --- |
| Adult | $18.00 |
| Child | $15.00 |
| Senior (65+) | $15.00 |
| School or Education Group | $12.00 |
Additional fees
How to get tickets
Buy tickets online now from The PumpHouse Theatre box office:
About
Riley the Wriggly Reindeer has taken Santa's Magical Sleigh to Aotearoa for a WOF when she discovers it's a lot more fun to take the Sleigh for a joyride. But, because she didn't listen to the rules, Riley crashes the sleigh in a remote area of Aotearoa and can't get it home to the North Pole again! With dreams of joining Santa's reindeer in pulling the Sleigh on Christmas Eve, Riley needs your help to collect enough Christmas cheer to fly the sleigh home and save Christmas for Aotearoa and the world!
Bring a group
The Runaway Reindeer makes an excellent end of year activity for holiday programs, ECE's or schools.
Education groups receive a special group rate, the option to pay by invoice and a dedicated contact at The PumpHouse to make sure the process goes smoothly.  To book a school or education group please visit https://pumphouse.co.nz/whats-on/children/book-school-group/