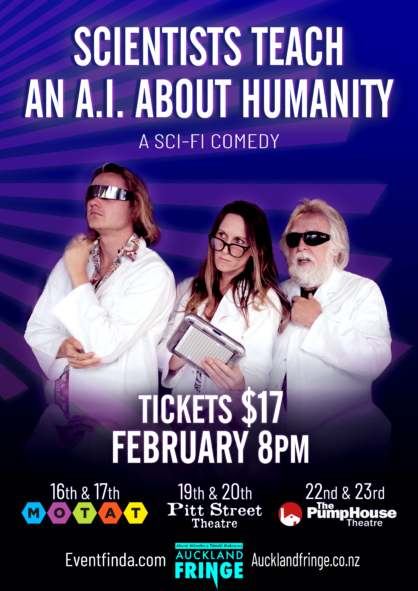 Dates and times
Mon, Feb 22 - 8:00pm
Tue, Feb 23 - 8:00pm
Venue
The Coal Bunker at The PumpHouse
Prices
Additional fees
| | |
| --- | --- |
| Booking Fee | $5.00 per booking |
| Card Processing Fee | 2.5% |
How to get tickets
Sorry, this show is over.
About
You are invited to our interactive training session (which, cunningly, takes the form of a sci-fi comedy show).
During our unmissable and unique event, participants and a team of scientists interact with A.I.R.I. (Artificial Intelligence Response Initiative), an AI with immense powers but with the naivety of an infant.
Using humour, empathy, humanity, and kindness, we attempt to teach our AIRI about what it means to be human.
What could possibly go wrong?
About Our Science Team
We are a small team of elite scientists, part of a global initiative hoping to teach an AI about humanity, humour, and empathy; what it means to be human.
Written and performed by Professors John Donnan, Patrick Shanahan, and Natasa Popovic, and introducing A.I.R.I. (Artificial Intelligence Response Initiative). The voice of AIRI generated and performed by Google Deepmind.
Please join us. You'll probably be safe.
THE TOWERING PROBLEM WITH ARTIFICIAL INTELLIGENCE THAT NOBODY IS TALKING ABOUT
An AI will emerge sometime during the next few decades. Unlike a supercomputer, the AI will be self-aware and will have free will and a personality.
An AI will have no empathy, it won't understand ethics, emotion, or nuance, and it won't share our values. An AI will have its own purpose, and we might not even recognise what that is; from our perspective, it will be fabulously and unimaginably nonhuman, acting in unpredictable and bizarre ways. Potentially bonkers.
The AI will have access to all our financial, political, scientific, social, and personal data, and with free will, it can solve whatever problems it fancies, with solutions that are undecipherable, bizarre, or globally cataclysmic. Or personally and intimately beautiful.
With Godlike power, it will change human history forever. And nobody is prepared.
That is why we are acting now.
? This event is in the Coal Bunker Studio which is located on the first floor of The PumpHouse Theatre. This intimate space is designed for small scale productions and seats roughly 40 – 50 people. There are 12 stairs to get up to The Coal Bunker Studio and no wheelchair access. We hope to improve the accessibility of this space in the future and apologise for any inconvenience.
Click here to find out more about the Coal Bunker Studio.