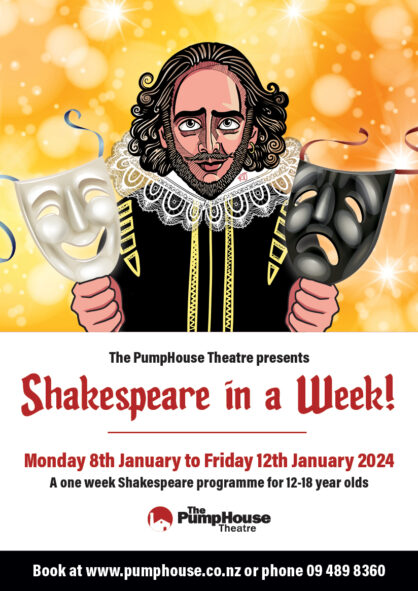 Dates and times
Monday 8 Jan to Friday 12 Jan 2024
Drop off from 8.45am, pick-up at 3:30pm
Outdoor performance in The PumpHouse Amphitheatre at 7pm on Friday 12 January
Venue
The PumpHouse Theatre
Prices
$249 per person for the full week
How to get tickets
Buy tickets online now from The PumpHouse Theatre box office:
Event type
About
Want to try your hand at Shakespeare?
Come and be part of The PumpHouse Shakespearian Players and put together a performance with all the works… in just 5 days!
The week will consist of:
• Devising a Shakespearian performance from scratch
• Developing characters
• Creating props and set
• Performing Shakespeare outdoors
Each day will feature some Shakespeare, some prop and costume making, some drama games but most of all FUN!
Don't miss your chance to perform in the outdoors just like the professionals do…
A shipwreck, two sets of twins, mistaken identities, jealousy and love all lead to a series of almighty errors with more than a little comedy about them…
Come and try your hand at one of The Bard's shortest plays with laughs aplenty.
✨ For ages 12 – 18 ✨
Mon 8th Jan to Fri 12th Jan 2024
Drop off from 8.45 am, pick-up at 3:30 pm
$249 per person for the full week
Outdoor performance in The PumpHouse Amphitheatre for friends and whānau at 7pm on Friday 12 January
Shakespeare in a Week Tutor: Mags Delaney-Moffatt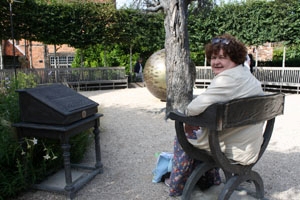 Mags' sense of humour and passion for what she does is infectious.
As a primary school teacher both in the UK and NZ, she has seen first-hand how being involved with drama has encouraged reluctant learners and helped build important social skills whilst having lots of fun. For her, drama is the perfect vehicle for individuals to explore their world, themselves and their relationships with others.
Mags is also an award-nominated stage manager so she has good practical knowledge of stagecraft and is always eager to pass it on.
Mags has a love of Shakespeare that goes back to her own school days, where she was lucky enough to be taught by an inspirational teacher who made the words of the Bard understandable and relevant – something she has tried to do herself both in the classroom, during workshops and directing actors.
---
Presented By