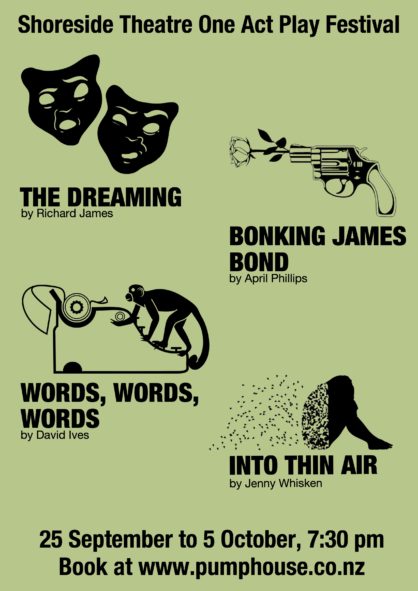 Dates and times
Wed, Sep 25 - 7:30pm
Thu, Sep 26 - 7:30pm
Fri, Sep 27 - 7:30pm
Sat, Sep 28 - 7:30pm
Sun, Sep 29 - 7:30pm
Wed, Oct 2 - 7:30pm
Thu, Oct 3 - 7:30pm
Fri, Oct 4 - 7:30pm
Sat, Oct 5 - 7:30pm
Venue
The Coal Bunker at The PumpHouse
Prices
Additional fees
No Booking Fees
How to get tickets
Sorry, this show is over.
Event type
About
The return of Shoreside Theatre's One Act Play Festival sees four new directors, four new plays and four talented casts.
From the absurdist "Words, Words, Words" by David Ives to the whimsical "Into Thin Air" – a new NZ work written and directed by North Shore local Jenny Whisken, there is something for everyone in great bite sized chunks.
All four plays are performed on one great night of theatre.
Words Words Words by David Ives (15 mins)
Directed by Michelle Atkinson
Three chimps locked in a cage trying to write Hamlet.
Into Thin Air by Jenny Whisken (25 mins)
Directed by Jenny Whisken
To be trapped between this world and the next is a choice we make when death comes before we are free to go.
Bonking James Bond by April Phillips (35 mins)
Directed by Emma Hilton
Bridget Jones meets James Bond in this warm-hearted comedy.
The Dreaming by Richard James (25 mins)
Directed by Kristof Haines and Duncan Preston
Two men find themselves in a featureless room, with no memory of how they arrived there.
---
Presented By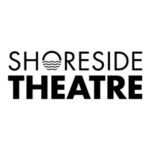 Shoreside Theatre is a North Shore institution. You'll be treated to sumptuous costumes, creative production design and passionate performances by a talented troop of local actors.
We endeavour to put on creative, fresh and exciting theatre with a community-based cast and crew.
Originally established in 1976 as Milford Playhouse Incorporated, our commitment to producing high quality community theatre has never faltered. Our aim is to bring audiences into the action, whether it be our season of Shakespeare in the Park, the annual Agatha Christie whodunit or our One Act Plays.