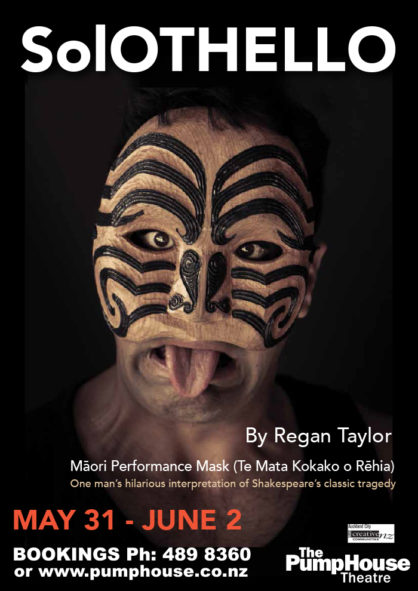 Dates and times
Wed, May 31 - 11:00am
Wed, May 31 - 7:30pm
Thu, Jun 1 - 11:00am
Thu, Jun 1 - 7:30pm
Fri, Jun 2 - 11:00am
Fri, Jun 2 - 7:30pm
Venue
The PumpHouse Theatre
Prices
| | |
| --- | --- |
| General Admission | $16.00 |
| Family - select 4 or more | $12.00 |
| Student | $12.00 |
| Friends of The PumpHouse | $12.00 |
Additional fees
No Booking Fees
How to get tickets
Sorry, this show is over.
About
Māori Performance Mask (Te Mata Kokako o Rēhia) come to life as Regan Taylor unfolds an adaptation of the Shakespeare's Othello as a solo performance.
Set in Te Ao Māori, SolOthello weaves together the original prose, modern English and Te Reo Māori to deliver a dynamic and cheeky interpretation of one of history's more tragic plays.
One of the reasons Shakespeare's works have endured is that his writing is infinitely adaptable. His themes of love, heartbreak, anger, betrayal, jealousy and death can be transposed into any culture, language or setting, which got bi-lingual actor/writer Regan Taylor thinking about Othello.
His one-man play SolOthello wrestles with the theme of jealousy within the framework of Shakespeare's plot. Regan uses carved Maori masks to differentiate characters and uses dialogue in Modern English, Elizabethan English and Te Reo to tell the story.
Regan Taylor is a natural comedian – In his interpretation, this tragedy becomes black comedy – and 'Othello' becomes accessible to everybody.
Suitable for children aged 12 and over.
---
Reviews
Theatreview: "SolOthello is a very enjoyable and enriching evening at the theatre...I highly recommend seeing it while you can." Read more »
---
Sponsors
---
Presented By