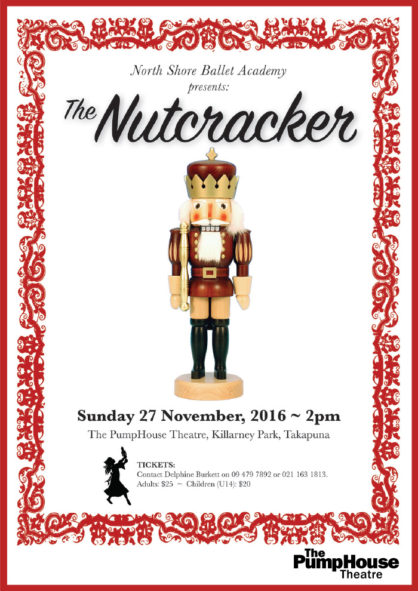 Dates and times
Sunday November 27 at 2pm
Venue
The PumpHouse Theatre
Prices
How to get tickets
Sorry, this show is over.
About
North Shore Ballet Academy presents its annual end of year student recital.
This year they perform Tchaikovsky's famous Christmastime Ballet, The Nutcracker a magical story where toys come to life.
It is Christmas Eve. Family and friends have gathered to decorate the beautiful Christmas tree in preparation for the party. Once the tree is finished, the children are sent for. They stand in awe of the tree sparkling with candles and decorations.
The party begins. A march is played. Presents are given out to the children. Suddenly, as the owl-topped grandmother clock strikes eight, a mysterious figure enters the room. It is Drosselmeyer, a magician. He is also a talented toymaker who has brought with him gifts for the children, including four lifelike dolls who dance to the delight of all.
Teacher/choreographer Delphine Burkett promises a delightful afternoon of classical dance for all ages accompanied by the magnificent score of the master composer Pyotr Ilyich Tchaikovsky.
Tickets sales are via North Shore Ballet Academy directly. Please contact Delphine at the above numbers to book.
Enquiries email:  dburkett@ballet.co.nz