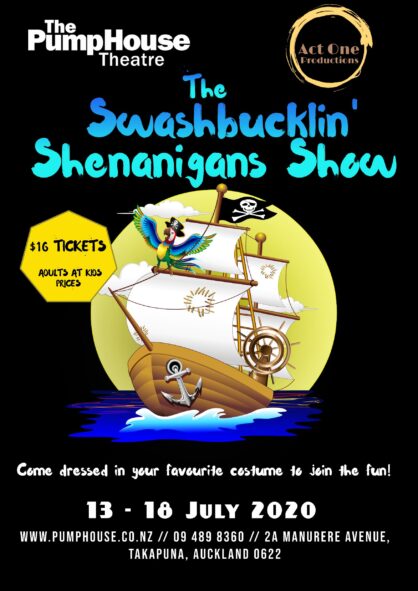 Dates and times
Mon, Jul 13 - 10:30am
Tue, Jul 14 - 10:30am
Wed, Jul 15 - 10:30am
Thu, Jul 16 - 10:30am
Thu, Jul 16 - 12:00pm
Fri, Jul 17 - 10:30am
Fri, Jul 17 - 12:00pm
Sat, Jul 18 - 10:30am
Sat, Jul 18 - 12:00pm
Venue
The PumpHouse Theatre
Prices
Additional fees
Card Processing Fee 2.5%
How to get tickets
Sorry, this show is over.
Event type
About
Come along this school holidays to a fun, interactive pirate show for the whole family! The PumpHouse Theatre and Act One Productions present The Swashbucklin' Shenanigans Show.
Shiver me timbers and fly yer colours! The Annual Pirate Recruitment Test is about to begin. Can you pass with flying colours?
Climb aboard the Vitamin Sea and learn what it means to be a true pirate.
Can ye sing a sea shanty? Can ye read a treasure map? Heave ho and earn your sea legs with the silliest sea dogs of the high seas, savvy?