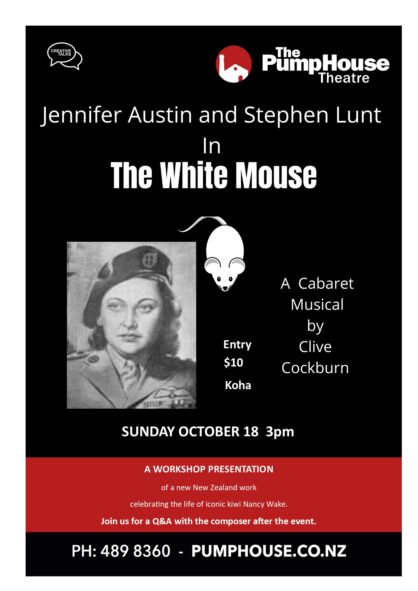 Dates and times
Venue
The PumpHouse Theatre
Prices
How to get tickets
Sorry, this show is over.
Event type
About
Respected New Zealand composer Clive Cockburn is staging a workshop to preview his latest work. The contemporary cabaret-style musical is based on the life of Wellington born World War Two hero Nancy Wake, who the Gestapo called The White Mouse as she was so hard to catch.
Clive Cockburn has had a career spanning many years working as a musician, songwriter, and composer in the film and television industry and also has a number of rock opera musicals to his name. He has recorded albums, composed hundreds of television commercials, scored fifteen television series and three feature films, including "The Maori Merchant of Venice".  He is a three-time winner of the "Best Music" category at the NZ Film and Television Awards and was commissioned to compose for choir and symphony orchestra for the opening of the Aotea Centre, at the request of Dame Kiri Te Kanawa. Clive is currently involved in writing and producing The Contemporary Music Course – video lessons used by secondary schools and independent students around the world for online music classes.
Following the development, The White Mouse is intended as a boutique show that can tour easily, written for two singers and four band members, who will also play some of the characters. For this workshop, a soundtrack and back projections will accompany the singers, Jennifer Austin and Stephen Lunt. This is an exciting project that is expected to evolve into a touring show sometime next year – Covid willing!
Book at the PumpHouse to be part of this project in the development stage and offer your views at the Q & A after the workshop.
All tickets only $10!