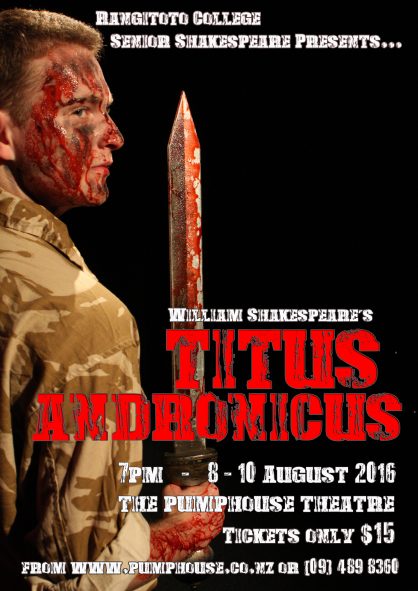 Dates and times
Wed, 10 Aug - 7:00 pm
Thurs, 11 Aug - 7:00 pm
Fri, 12 Aug - 7:00 pm
Venue
The PumpHouse Theatre
Prices
| | |
| --- | --- |
| All Tickets | $15.00 |
| Friends of The PumpHouse | $12.00 |
Additional fees
| | |
| --- | --- |
| Booking Fee | $5.00 per production |
How to get tickets
Sorry, this show is over.
Event type
About
Rangitoto College Senior Shakespeare 2016 presents William Shakespeare's TITUS ANDRONICUS, directed by Allan Roberts.
The Rangitoto College Senior Shakespeare is an annual production of eager Shakespeare-loving senior students who desire to be involved as an ensemble in producing one of Shakespeare's works.
This is not an assessment; this is for the love and drama of Shakespeare's work in performance.
Titus Andronicus is Rangitoto College's ninth Senior Shakespeare production directed by Allan Roberts.
Roman general Titus Andronicus returns to Rome in triumph after a ten-year campaign battling the Goths.
Parading his captives Queen Tamora and her sons , Titus decides to avenge his own two sons recent deaths by sacrificing Tamora's eldest son. Tamora is mortified and pleads with Titus to spare her son's life, but to no avail.
This decision proves costly. Tamora, not a woman to be meddled with, vows revenge. Titus' daughter, Lavinia, becomes the tool with which the Queen of the Goths exacts her vengeance. But vengeance continues to beget vengeance, causing a hideous and brutal chain of events to unfurl.
Warning: Graphic violence and gore