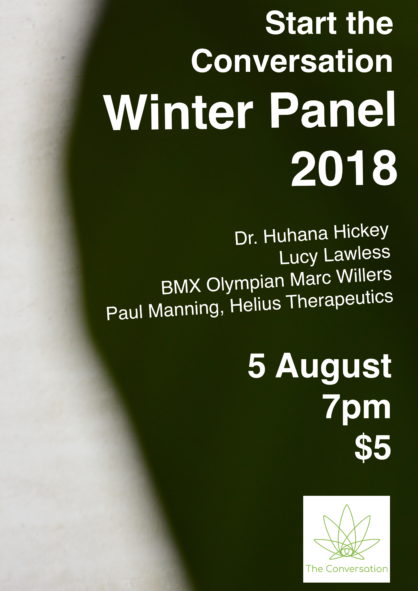 Dates and times
Venue
The PumpHouse Theatre
Prices
How to get tickets
Sorry, this show is over.
About
Start the Conversation is a charitable organisation designed to inform the New Zealand public on all matters of cannabis: in particular, its medical effects, the impacts of different regulatory systems, and the emerging international industry.
Over next two years, we are focused on leading the public discussion for the Adult Cannabis Use Referendum which the government indicated will be held by 2020.
We will hold public events throughout the country to discuss and engage with the public. They will be led by our group of ambassadors; well-respected and high-profile Kiwi personalities, academics and entrepreneurs. These events will also provide promotion and network opportunities for those starting out in the industry.
Winter Panel 2018 features drug policy expert Dr. Huhana Hickey, actress Lucy Lawless, double BMX Olympian Marc Willers, and Paul Mannings, CEO of Helius Therapeutics.
---
Reviews
Daily Mail UK: New Zealand government to ask residents their stance on legalising marijuana during upcoming referendum. Read more »
Videos
https://www.maoritelevision.com/news/regional/government-referendum-on-cannabis-doesnt-go-far-enough-expert