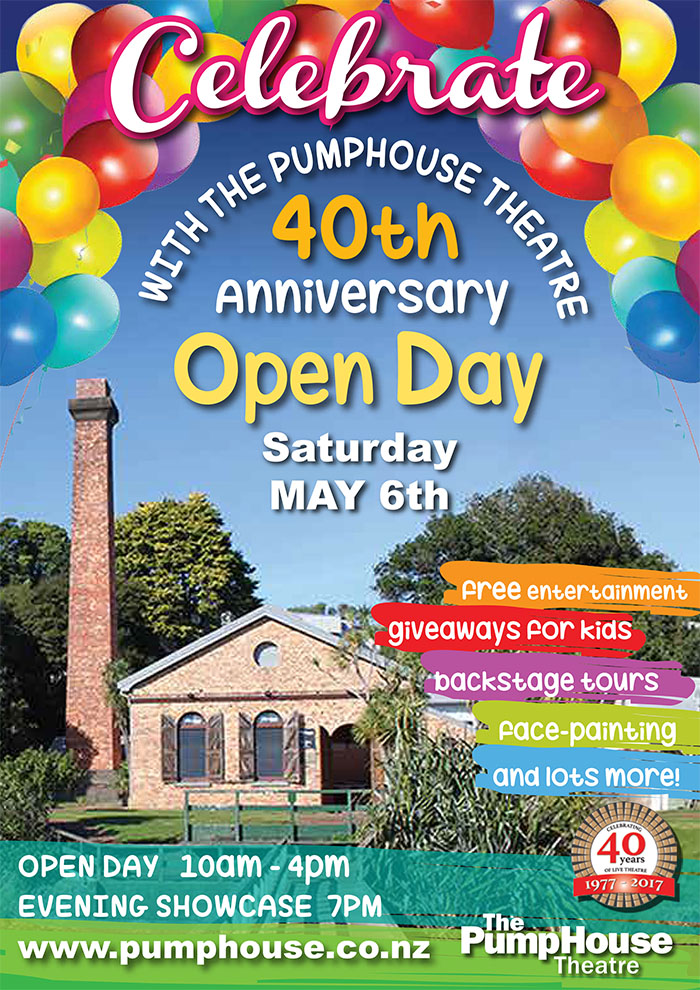 Things are a bit chaotic in the office at the moment as we count down to our 40th Anniversary Celebration, coming up on Saturday 6 May.
A fun family day
On the day between 10:00 am and 4:00 pm we'll be will throwing open the doors offering backstage tours, costume displays and photos and posters from the last 40 years of theatre.
We've got food trucks and live entertainment including the Westlake Concert Orchestra, the PumpHouse Community Choir, Birkdale Primary School Kapa Haka and local Singer/Songwriter Sophie Mashlan.
There's also a clown, balloon animals, crafts and free competitions for the kids.
Find out more on the PumpHouse Open Day event page on our website.
An evening celebration
At 7:00 pm on Saturday, 6 May the PumpHouse Evening Showcase will offer a taste of short performances by the many local theatre organisations – both grassroots and professional who perform at The PumpHouse.
Guest MC Russell Dixon will host the evening featuring performances by Tim Bray Productions, Shoreside Theatre, North Shore Music Theatre, the North Shore Performing Arts Society and many more.
It'll be a great night celebrating the wide range of things you can see at The PumpHouse on a regular basis.  Tickets are just $10.00 each, and on sale now.
And a return after 40 years
In the lead-up to our 40th Anniversary celebrations, Love Letters by AR Gurney will be performed by Max and Sue Golding.
Sue and Max were part of The PumpHouse Theatre's very first production in 1977, and were early members of the North Shore Theatre and Arts Trust when the theatre was established.
They still perform regularly around Auckland – you may have seen Sue in The Acting Collective's production of Persuasion at The PumpHouse earlier this year.
They'll appear together on stage from Tuesday 2nd – Thursday 4th May, presenting this Pulitzer Prize winning classic which illuminates a couple's ambitions and dreams over a 50-year relationship through a series of letters.
Find out more on the Love Letters event page.
Thank you to our sponsors
We're very grateful to our event sponsors Harcourts Cooper and Co – especially Gail and Ken Pianta, to Aidan and the team from Beneftiz and to the many performers and artists who have donated thier time and expertise to make these events possible.
We hope you'll join us to celebrate this very special anniversary.