"The only thing I like is teaching, and there's less and less of that".
Kings of the Gym by Dave Armstrong
A classic and outrageous New Zealand comedy from the renowned Tadpole Theatre Productions, is directed by Janice Finn and will be performed at the PumpHouse Theatre in Takapuna from 8th to 18th November.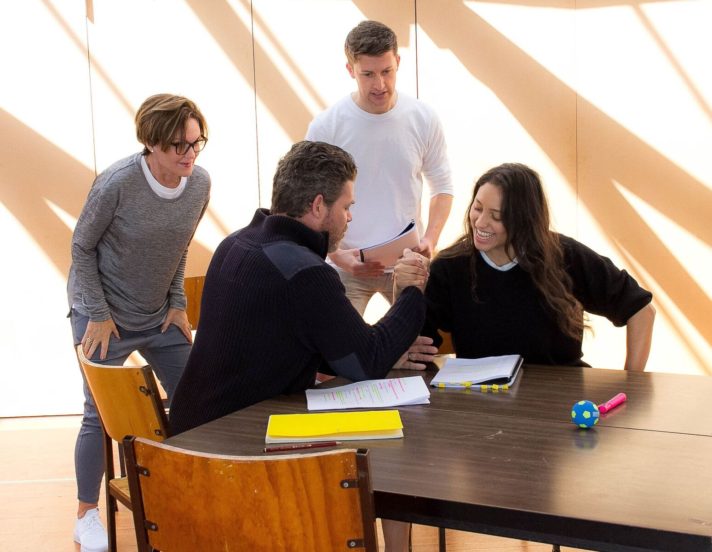 "The only thing I like is teaching, and there's less and less of that". So says overweight and unfit Head PE teacher Laurie, at low decile school Hautapu High. Fed up with the constant assessments and obsessive box ticking set up by ultra PC headmistress Viv Cleaver, he and his assistant Pat, a former student, now gym teacher, do their best to subvert Viv's over-earnest, te reo heavy curriculum.  They're unaware that Viv is about to introduce young Maori student teacher, Annie, into their laissez-faire culture.  She is an ace netball player, a born-again Christian and determined to make her mark in the new school culture. The ensuing conflict is both wonderfully funny and affecting as people's strongly held beliefs are challenged, serious truths are exposed, and love has a way of upsetting all apple carts!
Played by Paul Glover, Louise Wallace, Alexander Walker and Valeria Davis, the dysfunctional team of teachers embody people we all know – love them or despair of them!  Dave Armstrong is an award winning playwright (Niu Sila, King and Country) and television writer (Spin Doctors, Seven Periods with Mr Gormsby) and Kings of the Gym is a play full of satire, rude innuendo, belly laughs and heart.
An ideal show to get your friends together for a great night out, a block booking or a pre-Christmas office celebration.
Meet the Cast and Crew
Janice Finn – Director
Janice's first career was as an actress in New Zealand and Australia.   She played major stage roles in both countries and became a company member in the early days of the Sydney Theatre Company before returning to New Zealand to train as a television director/producer with the classic soap GLOSS being her first foray into producing.  During the following decades she took time out occasionally to direct plays in Dunedin, Palmerston North and Auckland, including three plays at the Auckland Theatre Company, the most recent being Roger Hall's "You Can Always Hand Them Back".  For Tadpole Productions Janice has directed "Six Dance Lessons in Six Weeks", "Social Climbers", "The Pink Hammer", "Two" and "The Book Club" and is very happy to be adding Dave Armstrong's comedy "Kings of the Gym" to the line-up.  Old school methods of teaching clashing with new methods is a great basis for entertainment and this terrific cast excel themselves as a bunch of disparate teachers pushing conflicting ideologies.
Paul Glover – Laurie
Paul Glover has been a regular in film, television and on stage since the early 90s. His film career includes The Ugly, The Fall Guys, The Locals, Blood Crime and Fracture and award winning movie 'Out Of The Blue', based on the true story of the Aramoana massacre. On TV Paul played Salvius in the TV series Spartacus: Vengeance, the AMC recreation of the Al Capone story 'Making of the Mob2′ and many years after playing Dylan Preston on the long running Shortland Street, Paul returned to SPP to shoot 800 Words.
Stage highlights include 'Beautiful Losers' and Richard with the formidably talented cast of the Kila Kokonut Krew created musical The Factory, a show which moved many audiences to ovation around Australia and at the Edinburgh Fringe. Auckland Theatre Co highlights include In The Next Room (Or The Vibrator Play), Cat On A Hot Tin Roof the Henrik Ibsen classic 'A Doll's House' and the Michael Hurst inspired racy adaptation of the classic 'Lysistrata' in 2015. For Tadpole Productions, Paul has starred in Same Time Next Year, The Pink Hammer and Two. 
Louise Wallace – Viv         
Louise trained at the Webber Douglas Academy of Dramatic Art in London, but it is her over thirty year career in television for which she is best known. Presenting credits include Celebrity Treasure Island, Shock Treatment, Top of the Class,  So You Want to be a Pop Star, The Weakest Link, 3News, Mobil Sport, 60 Minutes and 20/20. Louise's TV appearances have included Shortland Street, The Jono and Ben Show, The Real Housewives of Auckland, a regular panellist on The AM Show, as core cast in the 4 seasons of successful drama, Street Legal and guest lead in The Brokenwood Mysteries. Louise has been a talkback host on Radio Live and reported for Health Matters on National Radio. Directing credits include the 2013 theatre production of Driving Miss Daisy and for television, World's Strictest Parents, Celebrity Treasure Island, Dancing with the Stars and The Apprentice. In 2012 she co-founded Tadpole Theatre Productions and has starred in The Lion in Winter, Social Climbers and The Pink Hammer.
Alexander Walker – Pat 
Alex graduated from UNITEC's Performing and Screen Arts programme in 2011 and has since performed at venues around the country, including the Court Theatre, the Fortune Theatre and Rotorua's Blue Baths. He is excited to return to the Pumphouse, where he previously appeared in Tadpole Productions' Lion In Winter in 2012. He has made recent television appearances in The Cul De Sac, When We Go To War and Power Rangers. Alex is also a keen motorcyclist and rock drummer and a proud member of Actors Equity NZ. After having performed in the Court Theatre season of Kings of the Gym in 2013, Alex is reprising the role of Pat.
Valeria Davis – Annie
Valeria is a recent graduate of Toi Whakaari: NZ Drama School with a Bachelor of Performing Arts (Acting). She has since travelled to Los Angeles where she trained under the guidance of film maker and acting coach of The Technique; Joan Sheckel.  She has also been strongly influenced by her training with international voice coach Patsy Rodenburg. Her previous theatre credits include Mother Courage, Dying for It and Like Sex. Valeria is looking forward to her first major production with Tadpole Productions.
Click here to book your tickets! Opens Nov 8th, preview Nov 7th (limited seating).